Choose from Milestone's wide variety of aquatics classes, taught by certified instructors and available to members at no extra cost. We even offer specialty classes for selected health conditions. And swimming lessons are offered periodically throughout the year.
Check out class descriptions below, then see our aquatics class schedule to find the day and time that works for you.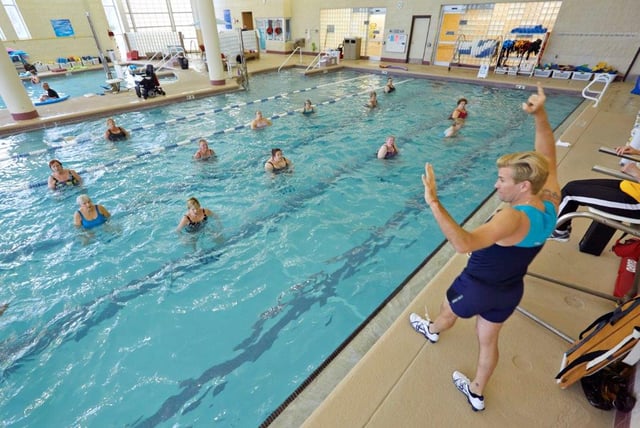 AFTERNOON DELIGHT
A cool water class with a light muscle strengthening component designed for individuals recovering from Breast Cancer, those with Multiple Sclerosis, high blood pressure, low muscle tone or those in need of pain management. This class focuses on movements to improve and enhance coordination and dexterity, pain management, balance and stability.
AKWA CHI

Performed in shoulder deep water; utilizes slow, deep breathing and wide range movements to give participants a true feel of control, balance, tranquility, and flow in the aquatic environment. Very relaxing!
AQUA MOTION
Cardio and strength movement combinations patterned to maximize the resistance of the water.
AQUA ZUMBA
Get your feet wet while toning and sculpting your body. Add in some easy-to-follow moves accompanied by Latin rhythms and international zest and you have yourself a pool party…Zumba style!
BOOTCAMP
Aqua Boot Camp class combines core strengthening, muscle toning, flexibility & cardio exercises. This class innovatively uses the unique buoyancy, resistance and movement of water. Ability to swim is recommended but can include non-swimmer and other aquatic exercisers.
CARDIO POWER
A powerful mix of cardio and strength in an interval environment. Intervals will alternate between cardio-based exercises and strength-based. The water, along with other equipment, will challenge all aspects of the body and increase your physical fitness level.
DEEP H2O
Deep water class with flotation belt. (No impact.) Super workout for all levels. You don't need to know how to swim.
DRENCHED

Join Jeff as he takes you on this high intensity workout that is the rage in the aquatic field. This workout is tailored for all fitness levels and is effective and fun! Designed to burn calories and make you sweat. Let's get drenched!
FLUID MOVEMENT
Class combines element of ballet, modern dance and Pilates to create a 45-minute workout that enhances core strength, balance and flexibility.
GET PUMPED
Power packed high intensity shallow water workout. Fun! Faswt! Fabulous!
H2O Cycling
All fitness levels are encouraged to try this class. Low-high intensity lower body workout. Space is limited so get your "ticket to ride" at the Service Desk before class starts. Please show up 10 minutes before class to get fitted on a bike. Must wear aqua shoes! Join us for a great ride!
H2O CYCLING
A variation of cardio and strength training exercises in the water. All levels welcome.
HIIT
This High Intensity Interval Training class is a form of exercise that utilizes short bouts of very intense exercise intertwined with bouts of rest. HIIT transitions into the water with high powered results.
HOLISTIC FLOW
A uniquely Chrystalline take on a gracefully fluid workout. Strategically designed so one move flows into the next until every muscle group has stretched and toned in a relaxed manner.
HYDRO-PILATES
This style of class is offered at several Florida resorts including The Biltmore Miami -Coral Gables. It develops trunk stabilization, helps correct posture and enhances muscle strength as all movements are initiated from the abdominals, lower back, hips and buttocks then flow outward to the extremities.
JOINT POWER
Designed to help patients strengthen muscles and joints prior to hip and knee replacement surgery. Class admittance requires MD release and physical therapy consult. For more information or to schedule an appointment call 896-3900 x136.
LIQUID POTPOURRI
Rotating instructors means you never know what type of higher intensity workout and music you'll get in this class. Be ready for fun intervals or circuits using a mix of euipment.
LOW IMPACT
Stretching, toning, mild cardio workout.
MASTERS SPLASH

Medium intensity workout including cardio, stretching and toning using a variety of equipment. "Light & Fun"
Neuro Aqua Aerobics
Cool water exercise class geared for those with M.S. Includes stretching with full range of motion and toning. Doctor's note is required to exercise. All fitness levels welcome.
POOLATES
Building a stronger core by moving from the inside to outside. Slow stretches to mood music focusing on lifting through the crown of the head. Experience relaxing, strengthening, lengthening and calming effects. Some equipment will be used.
POWER STRETCH & BALANCE
This class emphasizes core strength through balance and stretching using all muscle groups. Great for overall rejuvenation.
SILVER H2O

Regular shallow H2O workout. Water Aerobics.
SILVER H20 DEEP
Deep water class uses flotation belt for suspension in the water. Lots of cardio, strengthening and core work. You do not need to know how to swim to participate in this class.
STRENGTH TRAINING H2O
Group strength training in the water. Workouts target all major muscle groups using a variety of equipment. All fitness levels welcome.
TAB-AQUA
Come join us in the latest fitness trend adapted to the aquatic environment. This workout will leave you breathless…but wanting more! Watch the weight melt away! You will lose weight while gaining muscle.
WATER WELLNESS (Arthritis/Fibromyalgia)

Great class for strengthening, toning, and stretching. Full range of motion. Very relaxing and helps to make you feel great. Follows the guidelines from the Arthritis Foundation. Doctor's note is required to exercise.
WATER WELLNESS + NOODLES (Arthritis/Fibromyalgia)

Great class for strengthening, toning, and stretching. Full range of motion. Very relaxing and helps to make you feel great. Follows the guidelines from the Arthritis Foundation. Doctor's note is required to exercise. The final 30-minutes of class will incorporate the use of noodles and various aquatic equipment.
Wet & wild
Take your water workout to the max and dance your worries to funky fitness music in the cool water pool. Learn how to use flotation and resistance equipment to enhance each move and tone all of the muscle group while moving to the beat.
YOQUA
A series of Yoga postures and movements for strength, flexibility, balance and relaxation. Class will include use of equipment and end with mind/body meditation. Soft music will provide a calming atmosphere.