Milestone in the news!
march 2017 "fit" EDITION OF louisville MAGAZINE
Milestone Member Anna Showalter represented healthy living at the age of 78 in her feature in Louisville Magazine's "Fit" Edition! Anna said that people tell her she looks young for her age, and she attributes that to her exercise program at Milestone!
Article Picture & Link:
JANUARY 19, 2017 EDITION OF "voice-tribune" MAGAZINE
Our Milestone staff had fun putting together a quick Fitness Q & A for the Voice-Tribune magazine. Pick up your copy for FREE in the press area near the side parking lot entrance of Milestone, or visit our Blog to see the full story!
Article Highlights:
HMR program ranked #1 "best fast weight-loss diet" by u.s. news & world report | january 2017
A program offered by Baptist Health/Milestone Wellness Center and created by HMR Weight Management Services (HMR) has been named No. 1 "Best Fast Weight-Loss Diet" in the 2017 Best Diets rankings released today by U.S. News & World Report. It's the second year in a row HMR earned the top spot in the category
Milestone has offered the HMR Program for 16 years and was named the Best Weight Loss Clinic in Louisville by Today's Woman magazine in January of 2016.
"HMR's highly structured diet and lifestyle change program is designed to help people lose weight quickly while learning the skills they need to keep it off," said Chuck Bent, Program Director. "Fast weight loss without lifestyle change isn't sustainable. Through the HMR Program at Baptist/Health Milestone, people learn realistic ways to incorporate new healthy behaviors into their everyday lives." HMR programs excel at providing the jump start many people need when beginning a healthier lifestyle program. People can lose weight without feeling hungry. Fast weight loss is achieved in a livable way, by encouraging people to eat more and stay satisfied, making it easier to stick to the program in both the short- and long-term.
Find Ranking & Program Details Here:
January 2017 edition of "tops Louisville" magazine
We are excited to announce that the January 2017 edition of "TOPS Louisville" magazine features Milestone members Tom Shields and Dr. George Quill in the "Fit & Over 40" section. They are so inspiring and we are honored to have them as part of the Milestone family. You might also recognize the familiar faces of Milestone Staff members on the page opposite Tom Shield's article. Pick up your copy for FREE in the Milestone lobby!
Article Highlights: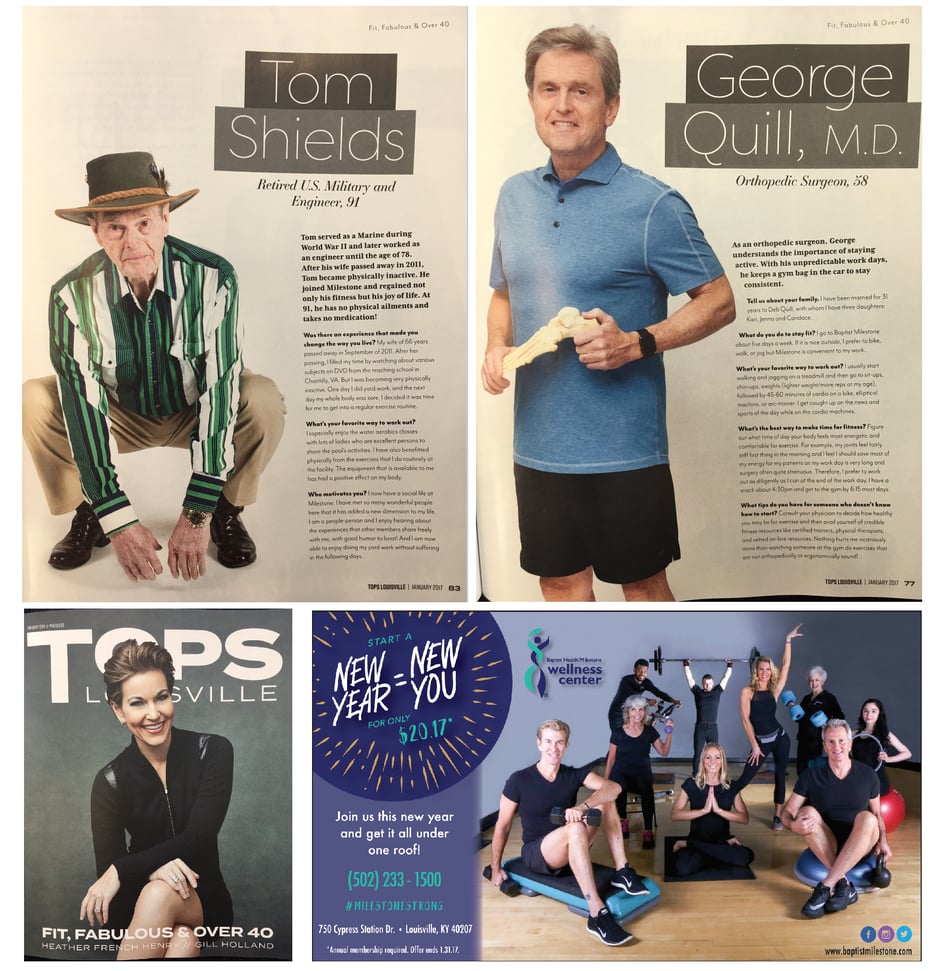 cover of "club solutions" magazine
Milestone President, Diane Kelton, was featured on the cover of Club Solutions magazine December 2016 edition. Club Solutions is dedicated to searching the country for the best management and facilities in the fitness industry. Diane was highlighted for her culture-shaping success. Milestone was recognized as a place where people can come from any walk of life and get the resources and support they need to realize their ideal healthy self.
Article Highlights:
milestone wins "best place to work 2015" in louisville business first
From a safe and friendly environment to great benefits, Milestone won the Louisville Business First "Best Place to Work" in the 25-99 full time employees category.
See the award page here:
milestone personal trainer in various publications!
Milestone personal trainer Alison Cardoza has been highlighted in a variety of recent publications!
Link to articles here:
club insider magazine highlights milestone facility
Club Insider dives into the current climate of the fitness industry and speaks on how Milestone is fairing the storm of new challenges and staying on the cutting edge of the industry.
Article Highlights:
today's woman mentions milestone in several editions
Today's Woman highlights Milestone in their "Luxury" secion in November 2015. They also did a feature on Milestone President Diane Kelton online in November 2015. Three Milestone Members were featured in the Today's Woman "Best Bodies" issue in August 2016. Milestone is mentioned in many other features for winning awards by reader-vote-rankings for best fitness and weight loss facility in Louisville. We are excited to have so many mentions in multiple issues!
Links to articles here:
best of louisville award - louisville magazine
Milestone has won the "Best of Louisville" People's Choice award for best fitness center in Louisville 3 times!
Recent Award: