Milestone offers cutting-edge new class formats such as Zumba and Hip-Hop, as well as your old favorites for cardio, strength training, and more.
Classes are taught by highly qualified instructors, and most are available to members at no extra cost. Contact our Membership team if you want help deciding which classes are right for you.
---
20/20/20:

Three workouts in one! This class is a total body workout that combines cardio, strength training and core exercises. Great for advanced levels.

---
Ball/Core/Back:

Class focuses on back and core strength using the stability ball and dynamic movements.
---
Barre:

Incorporating small, controlled movements with light weights or body weight resistance to sculpt, strengthen and elongate the muscles. This challenging workout forces the core muscles to work hard creating more endurance, flexibility and coordination. Synergizing elements of Pilates, sculpting and ballet will give you a full body workout.
---
Body Breakthrough:

This class is perfect to BUILD your best body, BOOST fat-burning and JUMP start your energy. Progressive full body strength training meets sweat inducing choreography. An intense total body workout designed to define and tone every muscle in every way as well as improve muscular strength and endurance. Get moving now with a Body Breakthrough.
---
Body Wellness:
Designed for mature adults, people who have lost muscle tone/flexibility or are in a recuperative phase. Based on slow, precise movements, the exercises can be performed while sitting, standing or lying on the floor.
---
Cardio Go:
Aerobic! Every type of cardio the instructor throws at you! Hi/Low impact, Tabata, sport conditioning, walk in the park, etc.. Good for beginners through advanced levels.
Multi-level class.
---
Cardio Mash- Up:
Be prepared for anything! This cardiovascular challenge can combine intervals, multi- impacted moves, step and more! Leave it to the instructor to surprise, energize and challenge your cardiovascular endurance.
---
Chair Yoga:
This class is one of the gentlest forms of yoga available. Students perform postures and breathing exercises with the aid of a chair. Students can experience the many benefits of yoga without having to get up or down from the floor.
---
Core Circuit:
Join Rebecca for a blast of intense core conditioning exercises to enhance abdominal definition and stability. Multi-level class.
---
Core Fusion:

This high-energy class combines Pilates movements and traditional strength training movements. You will increase your strength in just weeks! This fast- paced class focuses on core strength, but incorporates all areas of the body.
---
Cutting Edge Circuit
Get a full-body workout utilizing functional and dynamic movement patterns. This class incorporates a dynamic warm-up, strength training, bodyweight conditioning and mobility so you will be moved and motivated to finish stronger every day.
---
Cycle Jam:
A cardio cycling class that jams to great tunes!
---
Cycling:
An indoor cycling class consisting of varying speeds, resistance levels and intensities for a fun, energetic ride. You'll ride through slow climbs, short sprints and recovery spins for a time-efficient, high-calorie-burning cardio workout. Cycling classes are designed for any fitness level. Set your own pace; everyone starts and finishes together!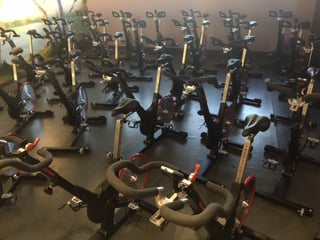 ---
Cycling / Duathlon:
High energy, fast paced, multi-level sport workout.
---
Express Cycling:
A quick 30-minute cycling ride to get your heart pumping while melting the pounds away. A great class for any fitness level.
---
Express Yoga:
This multi-level class has been tailored to give you a full yoga class experience in only 45-minutes. Participants will focus on building full body strength and flexibility using universal alignment and movement principles, breathing and Vinyasa.
---
Gentle Yoga
General yoga practice designed to increase strength, flexibility, balance and concentration. This class uses yoga props and moves at a gentle pace to aid those who have specific limitations and those recovering from injury. Each class includes stress release through breathing instruction and guided relaxation.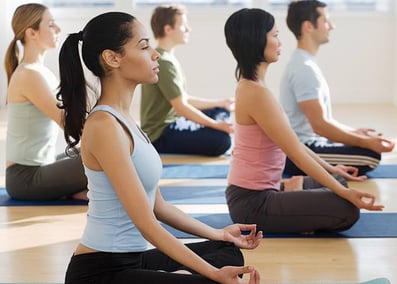 ---
Get Fit Intervals:

A high energy, multi-level class that emphasizes cardio, resistance training and core strengthening using timed intrevals. Get in, get out and get fit!
---
Hatha:

This branch of yoga uses various bodily postures, breathing techniques and meditation. Hatha yoga postures help to make the spine supple and to promote circulation in all organs, glands and tissues as well as stretching and aligning the body. Great class for improving balance and flexibility.
---
Hi-Low Impact:
A multi-level cardio workout combining power, high and low impact movements.
---
Hip Hop: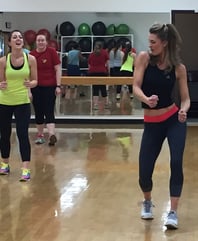 Hip Hop dance is a fun cardiovascular workout to upbeat hip hop music. Shimmee on in for a workout that will be sure to increase your energy level!
---
Just Dance:
This dance workout is a great way to build cardio fitness and move to the beat of some great Salsa, Swing and Cha Cha music. No dance experience needed.
---
Kickboxing:
A high energy, stress relieving workout! Kick it into high gear and be prepared to sweat. Gloves provided.
---
Kickboxing Plus:

Total body, fast-paced workout blending kickboxing, cardio drills and strength with weights.
---
Lots of Watts:
Be prepared to burn calories in this challenging ride that will have you wanting to get those watts high!
---
Low Impact:
A cardiovascular workout that always keeps one foot on the floor to reduce musculoskeletal stress while improving fitness.
---
Masters/Low Impact:
This class is designed specifically for seniors. Includes cardiovascular conditioning and resistive training.
---
Masters Pyramid:

This NEW workout always keeps one foot on the floor to reduce musculoskeletal stress while improving fitness. This workout will build a Pyramid of exercises focusing on strength, balance and cardio.
---
Multiple Step:
Power movements and great choreography provide the utmost in stepping. A great cardiovascular challenge using multiple platforms.
---
Oasis Stretch: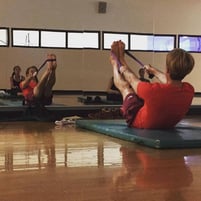 This class is 45-minutes of relaxation, stretching and breathing techniques. Relaxing and moving through various stretches that will make you feel as if you just left the spa.
---
Pi-Yo:
Learn the latest fad combining Pilates and Yoga in a fast and upbeat setting that will surely change your body into a longer, sleeker you!
---
Pilates: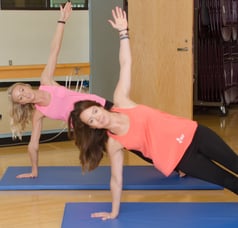 Pilates-Based Method Mat Class. Participants of all levels will benefit from core and stability training with enhanced breathing techniques.
---
Pop Pilates:

Join us for a total body, equipment -free workout that sculpts a rock solid core and a lean dancer's body like nothing else can. The combination of total body Pilates exercises with the attitude of choreographed dance and the energy of music, results in an intense workout that is FUN and effective. You will be challenged to flow from one exercise to the next, developing a rock solid core, while leaving NO muscle untouched. Every exercise can be modified to fit YOUR personal needs. You'll leave feeling sweaty, strong and ready to take on MORE!


---
Power Performance Ride:
An interval cycle class consisting of varying speeds, resistance levels and intensities for a fun, energetic ride. Experience high intensity cardio with upper body muscle toning using weights. Ride through slow climbs, short sprints and tension bursts for a total body, high calorie burning cardio workout.
---
Power Sculpt:
Total workout with resistive equipment and cardio.
---
P.U.M.P.:
(Producing Unlimited Muscular Performance) Challenge your body using hand-held weights, bands, bars and other equipment. An emphasis will be placed on body alignment and core strength. This class aims to increase both isolated and integrated strength using a variety of equipment and lots of creativity.
---
Recess Boot Camp:
This class is designed for MAXIMUM calorie burn in the shortest amount of time. We want to get you fit, get you healthy, challenge your body, and more importantly, MAKE FITNESS FUN!
---
Relaxation and Visualization
Give yourself a treat by decreasing stress and anxiety so you can relax and refuel. Come as you are and escape the world for just 45-minutes.
---
Rhythm Ride:
Join the latest cycling trend sweeping the country that will get your heart pumping while the pounds melt away! This class is for all fitness levels.
---
Seniors & Level 1 Mash-Up

Get a combined workout of 30-minutes of cardio, 15-minutes of weight training and 15-minutes of stretching. Chairs available.
---
Shred:
Shred your fat and sculpt your body in this fast paced class that uses a variety of equipment to tone and define your muscles. This class is for all levels.
---
Step:
Movements and great choreography using The Step by Reebok.
---
Step Interval:
Combines power stepping with resistance training.
---
Stretch:
A series of stretches to help yor flexibility, range of motion, balance and posture. A great class for any fitness level.
---
Stretch & Abs:
Strengthening the body's core (abdominals and back) and stretching to promote balance.
---
Tabata:
Tabata Bootcamp workouts are short in duration and designed to boost post exercise caloric burn AFTER your workout so your metabolism keeps burning more calories long after the exercise is over. Tabata Bootcamp offers the newest and most unique approach to hit the fitness industry!
---
Tabata Circuit:

Get the benefits of Tabata training with the combination of mashing up cardio and muscle using various circuit training exercises.
---
Tabata Trio:
Get the benefits of Tabata training with the combination of sequencing cardio, muscle toning and abdominals! Giving you the total body transformation.
---
Tai Chi:
Anyone can practice the slow and peaceful quality movements that calms emotions, strengthens the body, improves balance and posture and helps improve overall health. Tai Chi is based on the ancient belief that health is a true balance of physical, emotional and social well-being.
---
Vinyasa Yoga:
Vinyasa means to link: to link your breath with a pose and / or to link poses together in a sequence and flow. Some prior yoga experience needed.
---
VO2 Max
For those of you addicted to cardio. Interval cardio blasts varied in modality and intensity yet full of fun to motivate and inspire you to give it your 'all.'
---
Walk Tall/Osteoporosis:
Postural education using stretches, strengthening, body mechanics and visual imagery. Special consideration will be given for those with osteoporosis.
---
Yoga:
An emphasis is placed on balance, flexibility, strength and relaxation through various postures and techniques. All fitness levels are encouraged to participate.
---
ZUMBA: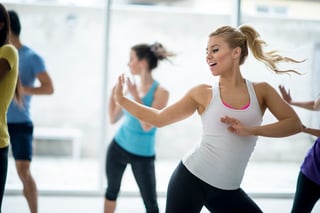 Dance your way to a fitter you! Latin and other exotic international dance rhythms will invigorate you. This is a fun, high energy, fat burning, dance class. Music selections include both fast and slow rhythms to help tone and sculpt the body with easy to follow dance moves! No dance experience required.
---
To find out when classes meet, see our Group Exercise schedule.
Looking for an aquatics class?
---