HMR® Meals & Snacks
Delicious food is part of the Healthy Solutions® Weight Management program, and the meals and snacks are loaded with essential proteins, vitamins and minerals.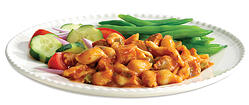 You'll enjoy:
Entrees
Shakes / Puddings
Cereal
Chicken Soup
BeneFit bars
PB2
Here's just a sampling of the menu items you can enjoy on the Healthy Solutions program:
New Entrees!
Mac and Cheese with Butternut Squash: Tender elbow macaroni smothered in a rich and creamy butternut squash and cheddar cheese sauce. Try it with butternut squash, peas, kidney beans, broccoli or tomatoes.
Whole Grain Medley with Chicken: A delicious and robust combination of five different whole grains, herbs, and vegetables tossed with pieces of tender chicken. Delicious with spinach, black beans, chickpeas, tomatoes or carrots.
Delicious Entrees
Vegetarian Thai Curry with Brown Rice:

Tasty blend of brown rice, hearty meatless protein and vegetables in a mild curry sauce.

Chicken Creole with Brown Rice: Delicious chunks of chicken with hearty brown rice in a zesty tomato sauce. (Made without gluten.) Only 230 calories.
Beef Stroganoff with Noodles: Strips of lean beef, egg noodles, and mushrooms in a flavorful cream sauce. Only 250 calories.
Lasagna & Meat Sauce: Lasagna layered with a delicious blend of cheeses and classic vegetables in a tasty meat sauce. Only 250 calories.
Mushroom Risotto: Creamy wild and white rice with mushrooms and red peppers in a flavorful cheese sauce. Only 240 calories.
Pasta Fagioli (Vegetarian): Traditional hearty mix of penne pasta, beans, carrots, and tomatoes in a savory brown sauce. Only 210 calories.
Turkey Chili with Beans: Lean, seasoned ground turkey combined with pinto beans in a spicy red sauce for a delicious change of pace. Only 230 calories
Chicken Pasta Parmesan: Tender chicken and pasta shells in a classic Italian sauce flavored with Romano and Parmesan cheeses. Only 200 calories.
Cheese and Basil Ravioli with Tomato Sauce: Delicate pasta filled with a flavorful blend of cheese, basil and spices in a red sauce. Only 180 calories.
Chicken with Barbecue Sauce with Rice and Beans: A tender, boneless chicken fillet smothered in a tangy barbecue sauce, served with white rice and pinto beans. Only 270 Calories.
Vegetable Stew with Beef: A full-flavored stew combining tender chunks of beef with farm fresh potatoes, onions, carrots, peas and celery. Only 140 calories.
Five-Bean Casserole: A fiber rich combination of red beans, black beans, white beans, chickpeas and lentils in a mild, chili flavored sauce. Try it served over a baked potato for a real treat. Only 240 calories.
Other Products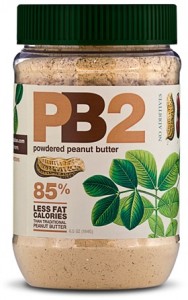 PB2 Powdered Peanut Butter
Made by Bell Plantation

We call it peanut butter's second generation because it's unlike any peanut butter you've ever experienced.
When you mix water or a favorite drink with PB2 you get the same consistency as full-fat peanut butter, with all the roasted peanut flavor, but 85% less calories.