Specialty aquatics classes offer gentle exercises and relief for those with health conditions such as breast cancer, arthritis, fibromyalgia, and multiple sclerosis.
Joint Power
Joint Power is designed to help patients strengthen muscles and joints prior to hip and knee replacement surgery. For class offerings, see the Aquatics class schedule.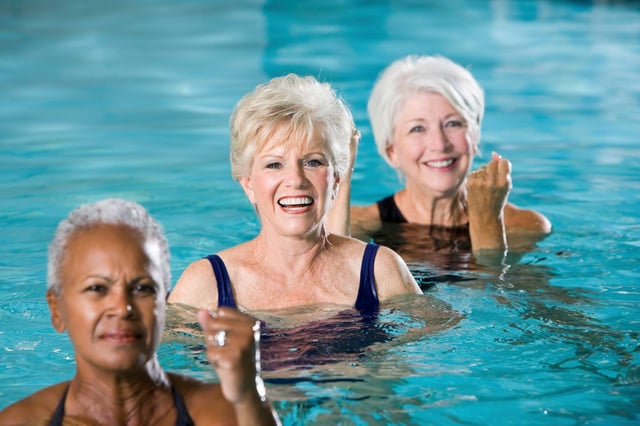 NEURO AQUA AEROBICS
Aqua aerobics has proven benefits for those with a neurological condition. Because the water's buoyancy supports 60 percent to 90 percent of body weight, exercising in the water is easier and increases range of motion and balance. In addition, the water temperature has a natural cooling effect, which makes for an overall pleasant mental and physical experience. Neuro Aqua class is geared for those with Multiple Sclerosis, Parkinson's disease, Alzheimer's, Dementia or other common neurological disorders. Includes stretching with full range of motion and toning. All fitness levels welcome. For class offerings, see the Aquatics class schedule.
Water Wellness
Designed for people with arthritis or fibromyalgia, this class is great for strengthening, toning, and stretching using full range of motion. This class is very relaxing and helps you feel great. Follows the guidelines from the Arthritis Foundation. For class offerings, see the aquatics class schedule.
To find out when classes meet, see the Aquatics class schedule.


classes designed with seniors in mind...
At Baptist Health/Milestone Wellness Center we have a long history of helping seniors maintain a high quality of life. We offer a comfortable and motivating facility that welcomes seniors to regain and maintain mobility in their later years.
With 40% of our member population being in the 65+ age range, we have many resources that are geared towards their needs.
Aquatic Facility Includes: Warm Water Therapy Pool, Cool Lap Pool, Jacuzzi Pool, Men's and Women's Steam Rooms, Family / Handicap Changing Areas (which are caretaker-friendly)
50+ Aquatic Exercise Classes Per Week Including Special Interest Classes for Seniors:

Joint Power
Arthritis/Fibromyalgia Water Wellness
Power Stretch and Balance
Akwa Chi / Pilates
Masters Splash Low Impact

Over 50 Personal Trainers with degrees and certifications, some specializing in Senior Wellness and Rehab/Recovery