HMR at Home®
HMR at Home® is a convenient weight-management option for those who can't make weekly sessions at Milestone, whether due to travel or other commitments.
To begin, a three-week Quick Start™ kit will be shipped to your home, with an assortment of delicious foods, plus an informational DVD and other tools. Your favorite menu items can then be ordered and shipped directly to your home. What could be easier?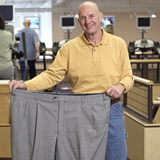 "I wanted to do something that was not a fad or a gimmick. And I didn't want a yo-yo weight situation. I wanted a permanent change in lifestyle and eating habits."
Darrell Brookshire
HMR at Home® participant since 2009
The HMR at Home program is a family affair for Darrell Brookshire. He lost nearly 135 pounds in 10 months on the program, and his wife lost 50. His daughter, former Oasis Spa director Jessica Shaw, has also lost weight.
"It's been a blessing; it really has," says Darrell. "It's helped us all get in shape and greatly improve our lifestyles – and our futures, too, we hope."
"Real food"
"I wanted to do something that was not a fad or a gimmick," Darrell says. "And I didn't want a yo-yo weight situation. I wanted a permanent change in lifestyle and eating habits.
"HMR is based on sound nutritional principles…. It's really based on avoiding hunger while controlling your calories. "With HMR, you avoid hunger by eating 5 or 6 smaller meals a day.
"What's amazed us is that you can really eat well and still have a reasonable calorie count. You can eat foods that we've eaten all our lives, but if you prepare them correctly and think about where the calories are coming from and how many calories there are, you can eat almost anything.
"The reason it came easily to me is that I didn't go through the terrible hunger or the terrible boredom of having to eat grapefruit or cabbage soup, or other fad diet foods, 12 times a week.
"HMR is real food, food that you're used to having."
"Terrific food"
In the HMR at Home program, foods are shipped directly to Darrell and his family.
"With their starter kits, you don't really have to think about what you're doing," Darrell says. "You get entrees and snacks and shake mixes, and basically your program is laid out (for you).
"Everything is so easy. Especially at first, where everything's prepared. So it's not time-consuming, you don't have to spend a great deal of time planning and prepping and cooking, or going to the grocery store to buy unique ingredients."
He says they enjoy entrees such as ravioli, beef stew, lasagna and chicken dishes. "The food is terrific…. It's very tasty, it truly is."
They also enjoy HMR shakes. "They're very filling and they're very good. And you can add fruit to them …or you can buy the sugar–free syrups and create almost any flavor you want. So it really is almost like having a milk shake, because you mix in ice and blend them. They're terrific appetite suppressants, because they give you something between meals that's really filling."
In maintenance mode
Darrell says he lost the majority of the 135 pounds in 6 or 7 months; after that, he lost about 3 or 4 pounds a month. He's now shifted to a maintenance mode.
"We're following the same principles, still eating several smaller meals a day, still calorie-controlled," he says.
"We still use the shakes almost daily, and occasionally if we're pressed for time we do HMR entrees. But basically now that I'm in maintenance, I prepare our own entrees, based on the HMR principles I've learned."
Feeling better
The HMR at Home program also provides recommendations on exercise. "Our exercise consisted almost entirely of walking," Darrell says. "We did some strength exercises, but really walking a mile a day was about it." He says the mile walk took 20 to 25 minutes at first.
Now that he's lost weight, he says the walk takes only 12 or 15 minutes – and he feels better, too. "It's amazing the difference it makes in how you feel. My back doesn't hurt, my feet don't hurt anymore. Climbing up and down stairs, or up and down hills — everything is so different now."