More than just a diet, HMR is a complete weight management and lifestyle change program.
Using clinically proven behavior change techniques, HMR can help you lose a lot of weight while learning the lifestyle skills that matter most for better health and quality of life over the long term.
VOTED #1 FAST WEIGHT LOSS DIET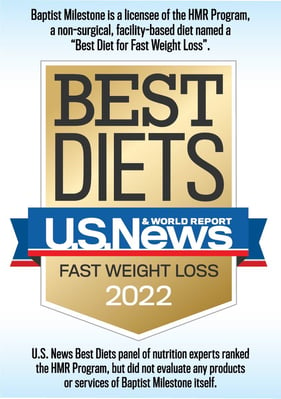 HMR was just named Best Fast Weight- Loss Diet for 2022 by U.S. News & World Report. It's the 7th consecutive #1 win! Learn why fast weight loss works: CLICK HERE TO READ THE FULL ARTICLE!
We are proud to announce that our Healthy Solutions team won 17 Gold Standard Awards for Excellence based on their performance in 2020. These awards are given out annually by HMR's National Headquarters and indicate that our Milestone Clinic was in the top 5% in the nation, out of hundreds of clinics, in 11 separate weight-loss categories.
Why choose HMR Healthy Solutions for weight management?
It's time to try the weight-loss program that's trusted by physicians across the country. With HMR foods, lifestyle education, coaching, and medical support – you'll get results quickly and never go hungry! Feel full, with satisfying weight-loss shakes, entrees, vegetables, and fruits. Get complete nutrition, including essential protein, vitamins, and minerals. Save money while losing weight by spending less on groceries and restaurant foods. Stay on your weight management plan with easy-to-prepare, portion-controlled foods.
Options that fit your lifestyle
Choose from two options, depending on your needs:
In-clinic participants attend a weekly class that provides support and emphasizes the lifestyle changes that lead to success, such as physical activity. And you'll get long-term support to help maintain your weight loss.
For those who can't make weekly sessions for travel or other reasons, HMR at Home® may be perfect. A three-week Quick Start™ kit will set you on the right path.
---
Benefits of fast weight loss
*Studies show that following a lifestyle change program promoting fast initial weight loss is associated with better long-term success: The New England Journal of Medicine; International Journal of Behavioral Medicine; Obesity; The Lancet Diabetes & Endocrinology.

1Average results for the in-clinic Decision-Free® plan is 38 lbs. at 12 weeks.
2Average results for the in-clinic Healthy Solutions® plan is 28 lbs. at 12 weeks.
3Average weight loss for the at-home Healthy Solutions plan with phone coaching is 23 lbs. at 12 weeks.
4Average weight loss for the at-home Healthy Solutions self-directed plan is 13 lbs. at 12 weeks.
---
CURIOUS ABOUT HMR HERE AT MILESTONE? CHECK OUT THIS FREE INFORMATIONAL SESSION!