At the Oasis Spa at Baptist Health Milestone Wellness Center, all facial treatments feature the BABOR Skincare System, a premium European line made of active natural ingredients and used by estheticians worldwide.
Facials
Express Facial
The Express Facial is completely customizable to your skin's needs!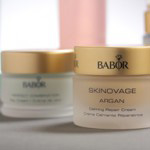 Low-exposure 45min treatment

Cleansing & Exfoliation with steam

Skin Correcting Fluid

Facial Massage

Masking & Eye Treatment
European Deep Cleansing Facial
Face, neck and décolleté are cleansed, steamed and exfoliated. Impurities are extracted and skin restored with the appropriate treatment mask. Includes hand massage.
Collagen Facial
Complete collagen treatment with collagen enzyme peel, mask, fluid and booster cream. Significantly reduces the appearance of lines by plumping, firming and calming the skin.
Selection Facial
For very dehydrated skin; long-lasting moisture is achieved in this signature BABOR treatment using yeast extracts from fine white wines.
Firming HSR
A deluxe anti-aging treatment to improve elasticity and moisture balance, coupled with a lengthy massage of the face, neck and décolleté.
Skin Renewal Treatment
An AHA facial of 10% or 30% buffered glycolic acid. Improves hyper-pigmentation, acne disorders and the appearance of fine lines and wrinkles. Gives radiance to dull skin.
Enzyme Facial
Papaya enzyme mask that may be added to any facial treatment for sensitive skin needs such as rosacea, acne, sunburn, etc.