"The water works!"
For fitness, for therapy, for relaxation … the water works, says Aquatics Director Mary Duke Connell. The Aquatics Center features a beautiful 25-yard lap pool, warm therapy pool, and whirlpool. At Milestone, you can enjoy lap swimming and choose from more than 70 aquatics classes offered throughout the week—everything from gentle water yoga to high-intensity cardio workouts.
The Aquatics program has won many national awards, including:
#1 Aquatic Wellness Center in the U.S.
#1 Aquatic Exercise Program in the U.S.
#1 Aquatic Physical Therapy in the U.S.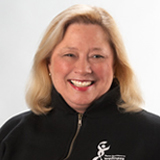 "The water works – body, mind and soul. I think it has a healing effect. It's restful, it's beautiful, and it makes you feel better."
Mary Duke Connell
Aquatics Director
Since 2000