Dan Broderick, Milestone's Service Desk Director, is the kind of guy who would give you the shirt off his back. Or, at least, out of his gym bag.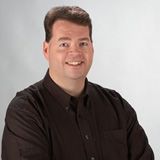 Staff members recall a recent day when a Milestone member was checking in at the service desk and realized she'd forgotten her workout t-shirt. Without missing a beat, Dan reached into his own gym bag and pulled out his clean extra shirt for her to use.
That's the kind of genuinely helpful attitude Dan inspires in his entire staff. After all, their goal is to make sure you have what you need to for a rewarding and enjoyable experience at Milestone.
A culture of kindness
Like many others who work at Milestone, Dan began working out at the center before he began working on staff.

Dan, who has a degree in broadcast communications and is originally from Louisville, first visited the center when he weighed nearly 400 pounds and was looking for a place to exercise.

"I had shopped around Louisville and found only two places that I thought were acceptable," he says. "Milestone won me over when I attended Tammy Ray's high impact and pump classes and was welcomed with open arms by the group attending the class." (Tammy is still teaching at Milestone today, by the way.)