Dana Poyner
HMR Participant Since 2009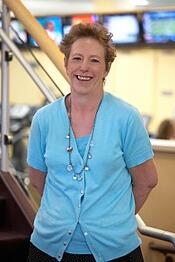 Dana Poyner's active and outdoorsy family enjoys sports, camping and four-wheeling. Now, she's able to enjoy time with the family even more – thanks to the 75-pound weight loss she's achieved on the HRM® Healthy Solutions® program.
"I'm able to do a whole lot more than I used to be able to do," says Dana. "I used to get tired easily …. But now I'm able to play with my kids more. It's made a big difference in the way I'm able to move around."
Dana also says she no longer waking up with the hip pain that once troubled her in the mornings, and she no longer takes medication for diabetes and high blood pressure.
Favorite foods
For the first six months on the Dana based her meals on the program's entrees and shakes, plus a variety of fruits and vegetables.
"The food is really good; it's tasty," says Dana. Her favorite entrees are the Turkey Chili, Barbecued Chicken with Rice, and Pasta Fagioli.
She says the Healthy Solutions program "seems easier" than other weight-loss plans: "I followed what they told me to do, and it worked."
"They teach you what to eat… and they want you to eat." The program focuses on helping participants avoid hunger by choosing foods that are filling but not high in calories, such as shakes.
Better choices
Dana also increased her physical activity, walking in her neighborhood and using a stair-step machine. And the program has had an impact on her family.
"We as a family have made some changes. We don't go out to eat a lot anymore, and when we do, we (make) better choices."
"My family and friends are very supportive of me," says Dana, who is now in the second phase of the plan and working toward her ultimate weight-loss goal. "Like me, they can't believe how well the program works."
"Whether you want to lose a whole lot of weight, or a little weight, it will work if you follow the plan," she says.
"It's a good program; I couldn't be happier with it."