Tracy Fischer
I began taking Pilates classes after the birth of my third child. I had always been an avid exerciser, but Pilates for me was something so new and fresh. The benefits were amazing. I fell in love.
I am a former University of Kentucky Cheerleader. I taught high school and college cheerleading camps for Universal College Cheerleaders Association during the summers of my college years of 1985-89. I wish I had known about the benefits of pilates during my college cheerleading years. My injuries would of been far less, and my level of athleticism would of increased tremendously. I can say the same for pilates after the birth of a child. After you are injured, you rehab your injury. After the birth of a child, your muscles have been injured, as well. Who thinks of rehab after childbirth? Pilates is amazing way to strengthen all of those muscles that have been injured due to pregnancy. With that said, I enjoy working with clients on a variety of fitness levels. I help clients to utilize their core, increase performance, increase mobility, and control mobility where they need stability. Pilates promotes flexibility along with working on a range of muscle and joints helping clients to move more freely. Pilates also creates long, lean muscles resembling those of professional dancers. Whether you are an elite athlete, wanting a change in your workout routine, wanting a great workout, pre/post natal, or just recovering from an injury, pilates is for you!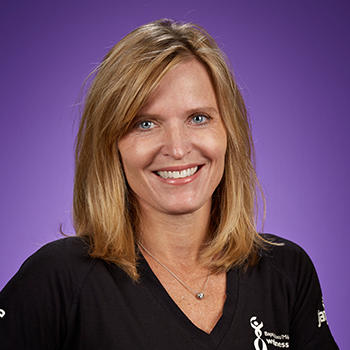 Degree
B. A. University of Kentucky
Certifications
Power Pilates Mat
Integrated Balance
Mat
Reformer
Chair Ladder barrel
Cadillac
Spine corrector
Training Specialties
Pre/Post Natal Fitness
Core Strengthening
Small group training
General fitness
Experience
Practiced pilates since 2005
Pilates instructor since 2006
TAP Pharmaceuticals sales representative, 1991-2001
University of Kentucky Cheerleader 1986-1989
Member of the 20 time UCA ( Universal Cheerleading Association) College National Champions,
University of Kentucky 1986-87', 1987-88!