Steve Ratliff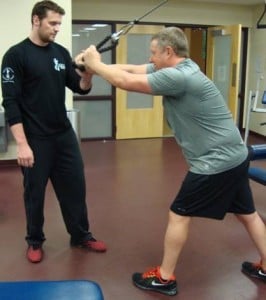 After being admonished by his doctor for several years to get in better shape, Steve Ratliff made a promise to God and his family to do so. Steve's overall goal was to reduce his body fat percentage and increase his muscle mass. In March 2011, Steve was matched up with Personal Trainer, Brett Greenwell, with whom he meets 2 days a week for strength training. Plus, Steve attends Brett's kettle bell class 2-3 times a week. Through Brett's teaching and encouragement, he has helped Steve to change his entire attitude regarding food, fitness and exercise.
Steve heavily credits Brett for helping him achieve significant health benefits. Overall, Steve lost around 65 pounds, not to mention his waist shrunk from 44 inches to 36 inches! His internist also cut his medications for blood pressure and cholesterol in half. He is no longer short of breath when walking up steep hills or stairs. Steve has also been able to ride his bike up to 28 miles at a time, a feat that seemed unachievable before he started exercising regularly. He hopes to increase that single ride to a 40 mile trip this summer!
Steve never imagined that he would actually enjoy working out or exercising, but now he finds his body actually craves the exercise! Not only has Steve gained unbelievable health benefits, he has also gained a good friend in his Personal Trainer, Brett Greenwell.
Great Work, Steve!