When you visit Milestone's Oasis Spa, the first person you're likely to meet is Spa Director Jennifer romero.
Jennifer, a Louisville native, graduated from The Louisville School of Massage in 2004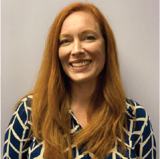 and has worked not only as a licensed Massage Therapist, but also has been a faculty member for LSM. She proudly tells us that teaching Anatomy & Physiology was her favorite subject! Jennifer came to leadership at The Oasis Spa with management experience from another spa environment and is particularly happy here at Milestone
as she, too, is passionate about people being proactive with their health. For Jennifer,
The Oasis Spa needs to be a part of everyone's wellness plan; your normal over-all
self-care.