Chuck Bent
HMR Participant Since 2007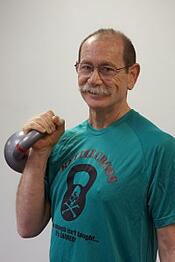 As a Health Educator in the HMR® Healthy Solutions® weight-management program at Baptist Health / Milestone Wellness Center, Chuck certainly knows his stuff.
After all, he was a successful program participant himself before he joined the center's staff. He lost 80 pounds his first year, and kept it off for 14 months, then lost another 20 pounds last year when he decided to adjust his goal weight.
No more huffing and puffing
Since losing the weight, Chuck says, "I've got so much more energy … I run up endless stairs now and don't think anything about it."
That wasn't the case before he started the program, he explains. "If I had to go up two or three flights of stairs for a meeting, I'd give myself five extra minutes to catch my breath and wipe the sweat off my forehead. … I'd be huffing and puffing and dripping sweat."
Not only has Chuck reduced his pants size from 46-inch to 32-inch, but he has similarly improved his health numbers. Also, with the aid of his physician he has eliminated or cut back on his cholesterol and blood pressure medications.
"Change IS possible"
"The program works, and if you follow the program, you can make it happen. Change IS possible," says Chuck. "And from my perspective, we can't take care of others unless we first take care of ourselves. That's my message: in order to care for others and to be a role model for others, we also need to care for ourselves through proper nutrition and exercise."
Nothing he'd rather do
Today, Chuck is an instructor and a role model for several HMR classes at Milestone each week.
"Three-and-a-half years after I started the program, I was laid off from my previous job. After that, I was at Milestone just about every day. One day Kristin (Kristin Brill, the weight-management program director) mentioned there was a job opening, and asked if I'd be interested in being a Health Educator."
"I didn't have to think about it. I just said, 'I cannot think of anything I'd rather do.'" She told me to think about it first, but I replied: 'Honestly, I cannot think of anything else that I would rather be doing!!' And when I told my wife and her mother about the offer, they both agreed that it was a 'perfect match.'"