Sue Schonberger, Group Exercise Director since 1984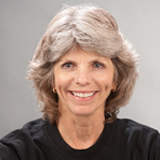 I have a passion for group exercise. My philosophy is "The more the merrier," because people feed off the group energy. Group fitness classes have so many advantages:
Motivation and camaraderie

There's something about working out in a group that helps people stay motivated. I know it can be a struggle to exercise regularly, and for many of us, the group atmosphere really helps. People get to know each other, so if you miss a class, you may get a friendly call from another member, just to make sure everything's okay.
Friendships

Some of the friendships that develop in group exercise even extend outside of classes. We have members who plan group outings – everything from dinner to canoeing to shopping to parties. Some class members have even scheduled trips together.
Structure
For many busy people, group fitness classes work well because of the routine they provide. People can plan their schedule around the classes. So you don't have to think: "Am I going to work out today?" The day and time are already set.
Experienced instructors
When you take a class, the instructor is always there to help and to answer any questions. My philosophy is to hire only people with experience. Our instructors are dedicated employees of Milestone, and many have been with us since the center opened.
Variety
At Milestone, you can choose from more than 250 classes throughout the week, Monday through Sunday. So, whether it's cardio or strength training or Pilates or kickboxing or Zumba, you can always find something to try.
Puzzles and fun
Sue's been with Milestone since its inception in 1984. She has a teaching background and trained to teach Physical Education before finding her passion in group training.
In addition to her expertise in fitness, Sue is known around Milestone for her puzzles, office decorations and holiday costumes. Directly outside her office is is a sitting area where a group of members often gather to chat, with a coffee pot that's been said to have "the best coffee in Louisville."
If you haven't met Sue yet, make sure to introduce yourself. She'll be happy to meet you, answer any questions, and help you find just the right type of class.
Don't hesitate to take advantage of Sue's expertise.