How do I check in?
Each member is required to present his or her membership card at the Service Desk when checking into the Wellness Center. We make it a priority to protect the privacy of the club for members and their guests. And for security reasons, we require member photos to be on file.
---
What do I wear?
There are no fashion standards or trends at the Center. Wear what makes you feel comfortable. We do encourage footwear that offers good support to help you avoid injury. And shoes and shirts are required in all areas outside the locker rooms and pool area. Footwear is required in the hallways to and from the locker rooms and pools.
---
Who will help me get started?
A qualified member of our staff spends time familiarizing each new member with the strength and cardio equipment and will answer any questions you may have. Contact us online, call (502) 753-7554, or visit the Service Desk to schedule your orientation.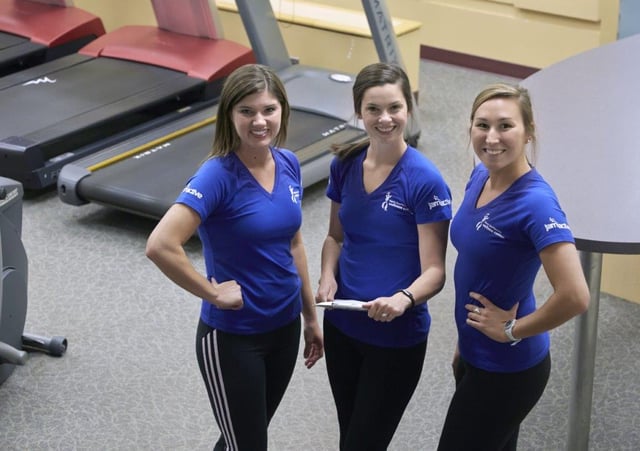 ---
Are lockers free, and do I need to bring my own lock?
Full and half lockers are free to members and guests on a daily basis only. Keys are in the lockers for you to use during your workout time. Please lock up your belongings and keep your key with you at all times. Remove your belongings when you leave the club for the night. Rental lockers are an option. Call (502) 753-7554 or contact us online for details.
---
Do I need to hire a personal trainer?
Many members keep fit and healthy with regular exercise at Milestone. But if you want to advance your goals and maximize your performance, let one of our Certified Personal Trainers design the ideal program for you – one that is safe and practical while keeping you challenged and motivated. Personal training rates vary depending on your specific needs.
Pick up a Client Profile and a Health History form at the Fitness Office or at the Service Desk. Once you've completed and turned them in, you'll be contacted by a member of the personal training staff to schedule your first appointment. Or call our Fitness Co-Directors, Lisa Groft and Maria Bernard, 896-3900, x115 for more information and rates.
---
Do I have to pay extra for aerobic and fitness classes?
All routine fitness classes are included in the cost of your Milestone membership. You don't have to sign up for a class, but we recommend introducing yourself to the instructor the first time, so he or she may get acquainted with you. Group fitness class schedules are available at the Information Center (lobby area) or outside of class rooms.
---
What's happening at the Center?
To get the latest news about upcoming programs and events:
See our Upcoming Events page
Register online for the center's monthly email news bulletin, or pick one up at the Service Desk and throughout the facility. It gives you a calendar of events and details member promotions, upcoming opportunities and club news.
See the Center's bulletin boards or lobby display rack, all full of information to take home and share with others.
If you have a specific question about an event, visit the Service Desk or call us at (502) 753-7554.
---
How does billing work?
You may pay your membership dues a year in advance or through monthly EFT (Electronic Fund Transfers) from your checking account, MasterCard or VISA. EFT accounts are processed and deducted on the 15th of each month. A $25 late payment fee will be assessed monthly on accounts that are insufficient. If you have questions, please call Jackie at 753-7547.
---
May I bring a guest?
We encourage you to bring guests to the club. An area resident may be a guest at Milestone at the normal daily guest fee of $20. Out-of-town guests are welcome at the same daily rate or for a weekly visitor rate. Members can purchase a package of 5-day guest passes for $60 or a 7-consecutive day package for $50 for their out-of-town guests. All guests must have a picture ID to be admitted.
---
How do I get help with a problem, complaint or suggestion?
We welcome your comments and suggestions. You'll find suggestion/comment cards on the counter around the corner from the Service Desk for writing down your ideas or concerns. If you need to speak to someone, a Manager on Duty is always available and may be contacted through the Service Desk. You can also contact us online.
---
What about my kids?
The Wellness Center has a fully staffed child-care area for children under 12. For their safety all kids must be signed in and stay in the child-care area while members are using the facility. Teenagers 15 years and older who are members have unlimited use of the club.
---
Do I have access to other clubs?
The Wellness Center is a member of the International Health, Racquet & Sportsclub Association (IHRSA), which allows members guest privileges in more than 5,000 clubs worldwide. Each affiliated club sets its guest rates, so please call in advance to learn the cost of a guest pass. Contact the Service Desk for your complimentary Passport booklet.
---
What are the Center's hours of operation?
The Wellness Center is open daily:
Monday-Thursday 5:30 am-10 pm
Friday 5:30 am-9 pm
Saturday 7 am-7 pm
Sunday 8 am-7 pm
Holiday hours are posted at the club (usually 8 am-3 pm).
We are closed on Christmas Day and Easter Sunday.
See hours of operation for business hours and the schedule for child-care, the Center Café and Oasis Spa.