This mother/daughter duo exercise together at Milestone 3 times per week. They have both maintained excellent level of fitness and health at the ages of 69 (Linda) and almost 90 (Lessie)!
---
Linda Cain's Story...
I've been a Milestone member for 10 years. Currently I'm 69 years old and I believe I'm in great condition. I joined Milestone at the recommendation of my friend who was a member. My mother, who is almost 90 years old, joined Milestone when she moved to Louisville from Colorado 3 years ago, so now we attend Milestone together 3 times per week. We come on Mondays, Wednesdays and Fridays. Milestone service desk staff members Gary and Shari are always so friendly in the morning, welcoming my mother and I when we check-in.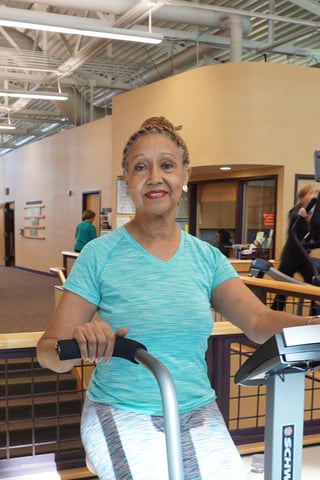 Some of the activities I enjoy doing at Milestone are: Sue's group exercise classes, Zumba, and PUMP classes. My ongoing goal is just to stay healthy. One of the things I like about Milestone is the variety of services under one roof. I enjoy getting massages at the Oasis Spa for special occasions; in the summer I enjoy going to the pool; and it's nice to know there's a café here if I want to eat before or after a workout. I have also attended some of the special seminars that have been offered in the class rooms.
I've had four surgeries over the past few years, including hip replacements on both hips, one in 2013 and one this year (2017). All of my rehab physical therapy was done here at Milestone upstairs with Pam Beury. It is so nice to have physical therapy in the same facility where I normally exercise. And it's been convenient for my mother to come with me so she can work out while I do my therapy appointments. The transition from physical therapy back to my regular exercise program was seamless. Pam helped me ease back into Sue's classes. She gave me a list of things to do, what not to do, how to get up and how to move around, and what to be careful of. We used a lot of equipment/machines during the transitions, and now I'm back to taking my favorite group exercise classes.
I've met a lot of friends here. I've even been to several of their homes. I call them my buddies. In Sue's classes, it's a lot of the same "regulars" who attend the classes, so we all see each other and laugh and tease each other, we get along well. If someone doesn't show up for a week or two, we call to check on them, ask where they've been. We keep tabs on each other. The social part is one of the things that I enjoy most about Milestone.
I've been an active exerciser for many years, long before I joined Milestone, because of the example my mother set for me. My mother was always an exerciser and she set the pattern for me, because I saw that it was good for her. It's great now for us to be able to exercise together many years later, at Milestone.
---
Lessie Daniel's Story...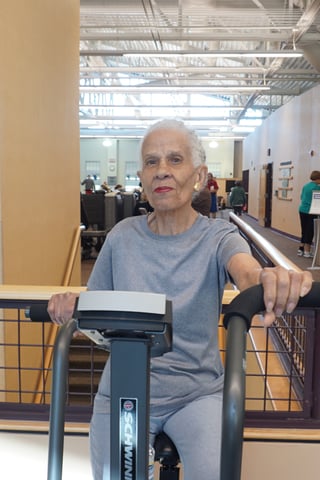 Lessie is turning 90 years old in November. Lessie was raised on a farm in Texas. Growing up, she would work in the field and was very active. Lessie played on her high school basketball team. She moved to Colorado as an adult. She learned to swim at the age 42, which she acknowledged was later in life than most people. She always mowed her own grass and tended to her garden at home, and stayed very active running her household.
In 2014 (three years ago), Lessie moved to Louisville to live with her daughter, Linda Cain. It was at that time she joined Milestone. Lessie made a deal with her daughter that if she joined, they would come together. Lessie enjoys exercising on the machines. Lessie met with a personal trainer, Joe Kirven, who wrote down exercises on a card that she can do on her own. She has a checklist and checks off each day what she does.
Lessie's fitness goals include staying healthy and active, and possibly gaining a little bit of weight, primary in the interest of strengthening her muscles and bones. She's made friends here at Milestone who talk with her each time she comes in, they ask how she's doing and give her compliments. The social part and the community is something Lessie appreciates about Milestone.
Lessie still works in the garden at home and sets a great example of healthy aging. We congratulate Lessie on her accomplishments!