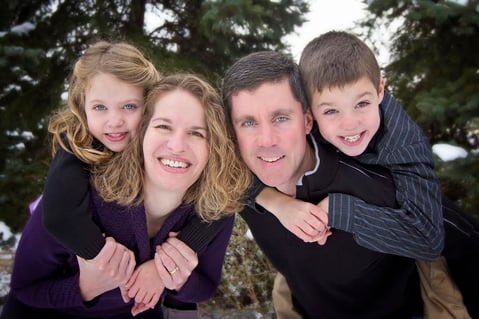 I have worked at Milestone for over 13 years. My passion and love for fitness and people has continued to grow each year. I thoroughly enjoy helping people improve their fitness, reach their goals, and enjoy a higher quality of life. I have found that fitness functions as a universal language that connects people together. My clients have become some of my closest friends and a part of my support system through the years.

I spent high school running cross-country and being involved with a ministry called Young Life. I attended Bowling Green State University (in OH) and got my B.S. in Dietetics. While in college, I married my high school sweetheart Jen Harbert. Dan Horton was my best man in our wedding 19 years ago and is still my best buddy. Right after college, Jen and I led a team of missionaries to do college ministry in Guadalajara, Mexico for a year with Campus Crusade for Christ – si, muy bueno. We returned to the U.S. and moved to the Kentuckiana area while I attended Southern Seminary.

In 2002, we moved to the east end of Louisville and I began working as a trainer. We have two children, Luke, who is now 11 years old and attends Mezeek Middle School and Lexi, who is 10 years old and attends Dunn Elementary.
We never intended on staying in Louisville, but we have fallen in love with the area and the people. Dan Horton and I planted a church in 2007 and merged with Sojourn Community Church in 2010. I serve as a lay pastor at Sojourn East. It has been an incredible ride to participate in the growth of the church from 150 to 1300 people in the last five and a half years. I develop and shepherd the leaders of our small groups that meet in the St Matthews area.

If I am not in the gym, you will find me running trails in the park systems, reading, going to lunch with friends, cheering for Ohio State or chilling at El Camino. My hope in life is to use my pastoral training, dietetics degree and my experience in personal training to influence and help people. Life is never easy for any of us, but I am very thankful for the joy I receive from my family, my church, my friends and my place of work.