HMR Named a No. 1 "Best Fast Weight-Loss Diet" by U.S. News and World Report
Louisville, KY, January 3, 2019 -- A program offered by Baptist Health/Milestone Wellness Center and created by HMR Weight Management Services (HMR) has been named No. 1 "Best Fast Weight-Loss Diet" in the 2019 Best Diets rankings released today by U.S. News & World Report. It's the fourth year in a row HMR earned the top spot in the category.
Milestone has offered the HMR Program for 18 years and was named the Best Weight Loss Clinic in Louisville by Today's Woman magazine in January of 2016.
"Successful weight loss is not only about losing pounds quickly, it's about creating changes around eating and physical activity that you can sustain over the long term," said Chuck Bent, HMR Program Director. "By keeping the plan simple, people can lose weight quickly while building the skills they need for long-term weight management." Chuck, who has been keeping off 100 pounds for over ten years said, "Diets, by definition, are designed to fail. We have all lost that same 30 pounds over and over. That's because diets have a starting point and a stopping point. HMR, on the other hand, is a lifestyle change program, utilizing a team of professionals and face-to-face support. We here at Milestone have helped people of all sizes and ages lose anywhere from 12 to well over 200 pounds and keep it off long-term."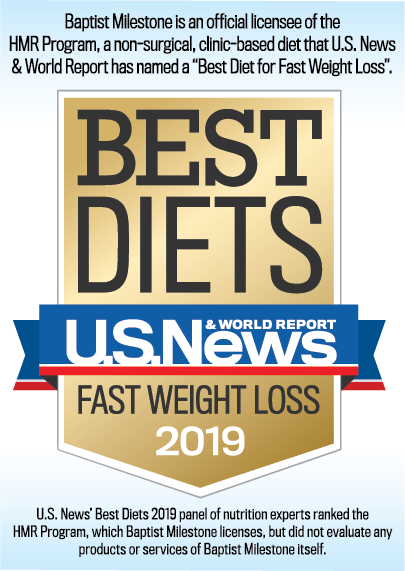 ---
Call the HMR Office to speak with Lynn at 896-3900 ext 124, or email Chuck at cbent@baptistmilestone.com to discuss your various options.