Winter is coming and so are tempting comfort foods. Warm up with a bowl of this HMR approved Butternut Squash Soup.
Butternut Squash Soup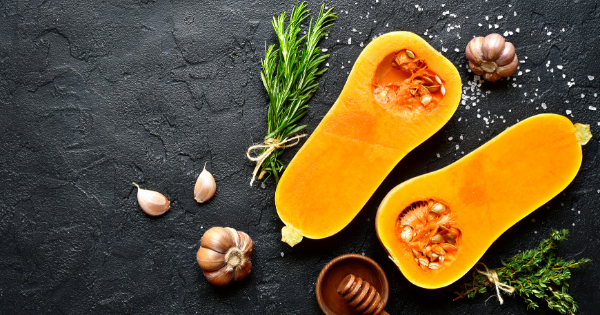 This is one of the easiest butternut squash soups you'll make this winter. Using just seven ingredients, it is sure to be a cold weather favorite!
---
Ingredients:
1 large Butternut Squash

2 ribs of celery

1 carrot

½ onion

2 cloves of garlic

8 Sage leaves

6 cups water
Directions:
1. Making the stock
Use a sharp knife to cut off all the outer rind (save this for stock) from squash

Cut squash in half and remove seeds (seeds go in stock also)

Rough chop: onion, celery and carrot

Add all to stock pot with water, sage and garlic

Bring to simmer and let cook for 20 minutes
2. Roast the Squash:
Chop into 1inch sized pieces

Mist with spray butter and season with Mrs. Dash salt substitute and pepper

Roast on baking sheet at 400 degree for about 25 minutes or until they are very soft. Could be longer or shorter depending on how big your pieces were cut.
3. Assemble the soup
Strain the squash stock and discard the solids and save the liquid.

Put the roasted squash in a pot and about 3 cups of stock.

Use an immersion blender to get a nice smooth consistency. Add more stock until you have a consistency you like.

Adjust seasoning and serve immediately.