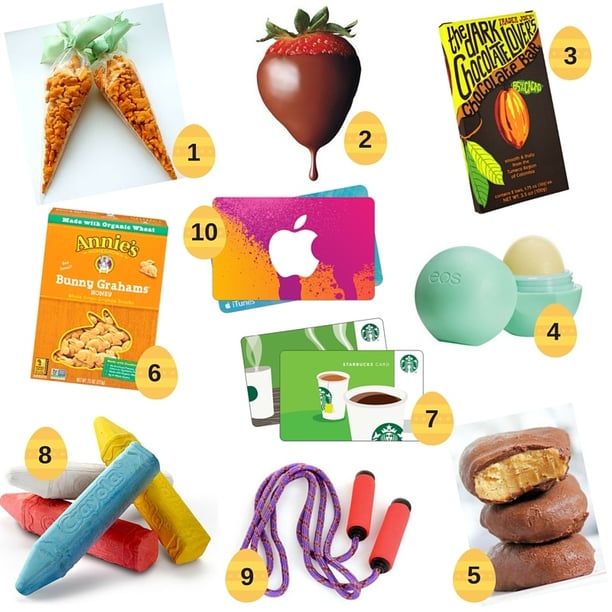 1. Annie's Cheddar Bunnies || 2. Chocolate Covered Strawberries (homemade or order from Shari's Berries) || 3. Dark Chocolate || 4. Lip Balm || 5. Homemade Peanut Butter Eggs || 6. Annie's Bunny Grahams || 7. iTunes Gift Cards || 8. Sidewalk Chalk || 9. Small Fitness Equipment || 10. Starbucks Gift Cards


We know the Easter Bunny can fill those baskets with lots of sweet and delicious treats. However, there are several healthy options that you can incorporate to allow for a joyous celebration without wrecking your diet! Challenge yourself and your family to have a healthier Easter this year with some fun ideas, both edible and non-edible. Whether you are making baskets for the kids or adults in your life, these healthy options are still sure to please!

Annie's Homegrown brand has multiple products that are bunny shaped and fun for both kids and adults. Chocolate covered strawberries (or any other fruit!) are always a delicious and juicy treat. Don't feel the need to go cold-turkey and have no candy at all - that's no fun! Try making your own, homemade peanut butter eggs or buying individually wrapped treats, like dark chocolate. Trader Joe's has great bar options with at least 70% cacao. Keep in mine, if they're individually wrapped, you're less likely to over indulge and you won't be eating handfuls (Hello M&Ms!).

Some non-edible ideas are lip-balm, make-up or toiletries, gift-cards, side-walk chalk (undeniably fun for both kids and adults!), small fitness equipment like a jumprope, and stationery. We all need that extra cup of coffee to get us to Friday! Jamming to our favorite songs during a workout is also key and iTunes makes loading that iPhone or iPod easy.

We hope this helps you think healthy and Happy Easter!

Do you have any other tips for making a healthy Easter basket? Share with us in the comments below!