Valentine's Day is this week! Stumped on how to show your love to that special someone? We've gathered a few simple and healthy recipe ideas you can share with anyone! Who doesn't love red pancakes or eggs in the shape of a heart?
Fiber One® Pancakes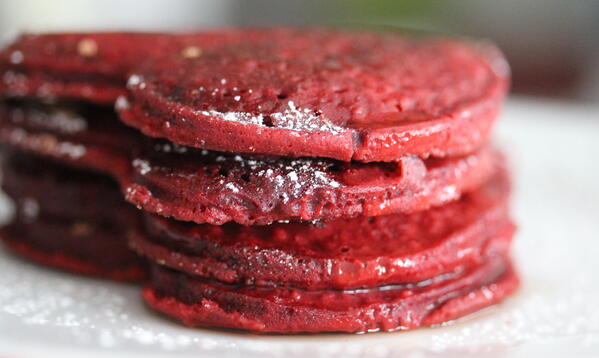 Photo Courtesy of: www.uremrome.blog.com

Fiber One® has created a tasty and fiber-packed pancake mix that only requires you to add water. Talk about simple! Add a few drops of red food coloring and voila! If you have a heart shape cookie cutter or egg ring, use it for red, heart shaped pancakes.
Nutrition: 180 Calories | 3.5g Fat | 5g Fiber | 6g Protein | 36g Carbs
Heart-Shaped Egg in Toast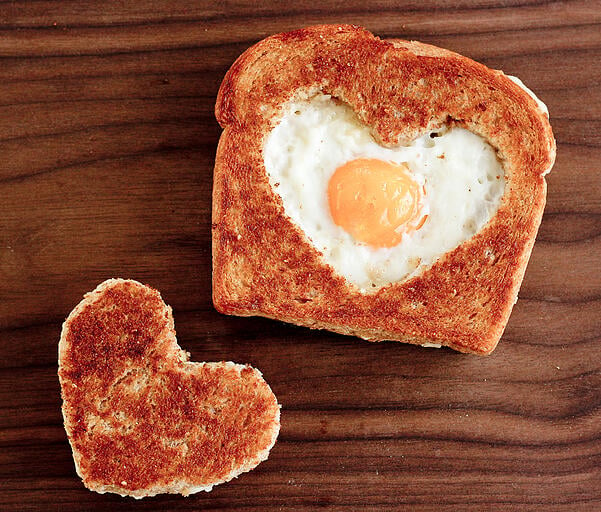 Photo Courtesy: www.reclaimingprovincial.com
Grab those heart shaped cookie cutters or heart shaped egg rings for this breakfast. If using a cookie cutter, press the middle out of a piece of bread. Grill one side in a skillet and then flip. Crack the egg in the open middle and cook sunny side up. If you have an egg ring, press into a piece of bread and remove the middle. Toast bread in toaster. Cook the egg in a skillet sunny side up in the egg ring. When both are finished, gentle place egg onto the piece of toast with a spatula.
Red Velvet Cupcakes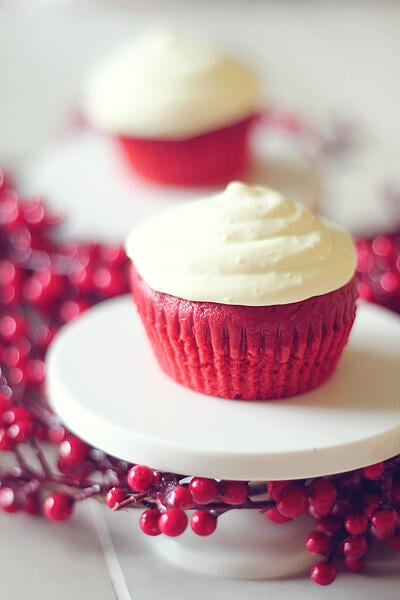 Photo Courtesy: www.dashingdish.com
Dashing Dish has done it again with these healthier red velvet cupcakes.
Red Velvet Cake:
1
(16.25 oz) Box super moist white cake mix (I used sugar free white cake mix)
1 1/4 cup
Reduced fat buttermilk

1

1/2 cup
Low fat vanilla or plain yogurt (I used vanilla Chobani)
3
Egg whites
1
Large box vanilla sugar free pudding mix (2 tbs for the cake, save the rest for the frosting)
2 tbs
Cocoa powder
1 tbs
Red food coloring
Cream Cheese Frosting:
1/2 cup
Skim milk (or milk alternative)
Remainder
Of vanilla pudding mix (listed above)
1
(8 oz) package 1/3 less fat cream cheese, softened
1 cup
Light cool whip (or Truwhip for a natural alternative)
Preheat oven to 350 degrees. Line 2 (12 cup) muffin tins with cupcake liners, or spray with non-stick cooking spray.
For the cupcake batter, mix together cake mix, buttermilk, yogurt, egg whites, 2 tbs dry pudding mix, cocoa powder, and food coloring. Beat mixture until smooth. Divide batter evenly between 24 cupcake tins. Bake cupcakes for 18 minutes, or until toothpick comes out clean.
While cupcakes are baking, mix together the milk and pudding mix. Add cream cheese, and beat until smooth, (this is best done with a hand held mixer, or kitchen aid mixer to get frosting smooth). Fold in cool whip. Set frosting in fridge for at least 10 minutes, to firm up.
When cupcakes are completely cooled, frost cupcakes, and top with sprinkles if desired. Place cupcakes in a covered container, and store in the fridge until ready to serve. Enjoy!
Nutrition (yields 24 cupcakes): 113 Calorie (1 frosted cupcake) | 4g Fat | 17g | 2g Sugar | 3g Protein