One of our popular Cycling classes here at Baptist Health/Milestone Wellness Center is called "Lots of Watts Cycling" with instructor Dean, Tuesdays 6:10pm - 7pm and Fridays 9:15am - 10:15am. This class uses power meter training which is measured in watts. So what is a watt? And how does it relate to fitness? Learn the basics here!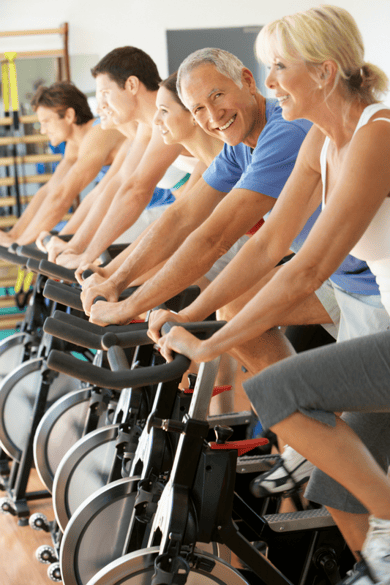 Your manmade power comes from within—or more specifically, the combination of RPMs (i.e., your cadence) plus how much force you put on the pedal.
In simpler terms, watts measure how hard you work. One horse, for example, can produce 746 watts. Most pro cyclists produce about 200 to 300 watts on average during a four-hour tour stage. The recreational rider, on the other hand, might be only able to sustain this wattage during a 45-minute or hour-long spin class.
A set number of watts will look different to different people. What a watt looks like to you will be based on a combination of factors like bodyweight, leg strength and overall fitness.
PowerPower is the rate at which energy is used (energy over time) and is measured in watts. In cycling, energy is expressed in terms of work (such as how hard you have to work to ascend a climb). It's a constant snapshot of your work rate at any given moment. It's the building block from which all power-based training flows. One cool fact: A watt is a watt, whether on a bike or powering your home. So when six-time Tour de France stage winner Andre Greipel unleashes 1,900 watts in a sprint, he could essentially power two houses at normal consumption level. Another comparison: 1 horsepower is 746 watts.
Average Power probably won't be on the home screen of your power meter device, but it might be in the second or third menu. This is exactly what it seems: your average power output over the whole ride, just like your average speed readout. Here's the key: It includes coasting, so it's only a part of how hard you work.
We hope this helps you at least understand some of the basic terminology of power meter training! Join Dean on Tuesdays 6:10pm - 7pm and Fridays 9:15am - 10:15am for "Lots of Watts Cycling". We look forward to seeing you there!