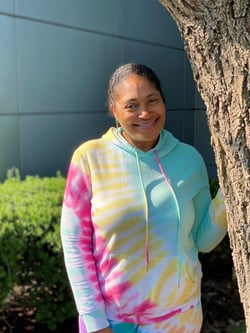 Meet Denise Ervin. Fun Fact about Denise...she was the FIRST new member to join Milestone after the 2020 COVID-19 government-mandated shutdown. We are thrilled to be able to share Denise's story & love for Milestone with all of you; take it away Denise!
What is your main health and wellness goal?
My goal is to maintain my health and exercise.

What do you love about Milestone?
I love everything about Milestone the people and the expertise in training and fitness, I love the way the system is set up to weigh you in and check BMI and everything else that's going along with your health. The equipment is top-notch.

How long have you been a member of Milestone?
Since June of 2020.

What is something we would be surprised to know about you?
I was raised in Muhammad Ali's childhood home, which is also my childhood home.

What is a piece of advice you would give to others getting started on their fitness journey?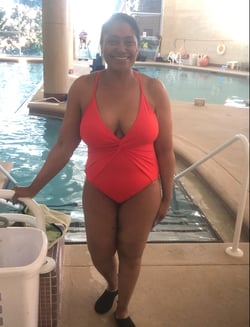 2 yrs ago I was diagnosed with kidney disease. And I feel great. I only see my kidney doctor every 9 months because I do what my doctors tell me to do. My advice is to listen to your body at all times. Listen to your doctors. I started my weight loss journey in 2017 I weighed 201lbs. My doctor was serious about letting me know I must change everything, and I did. Everyone please be serious about your health, watch what you eat and drink, and exercise daily. I know it's hard but please try.
What are your guilty pleasures/indulgences?
My guilty pleasures are candy and sweet cakes, but I've mastered how to eat the right way. Watch calories and intake. Never give up your health is worth it.

How has working with Alison enhanced your workout routine?
Alison Cardoza has been my trainer for about 7 months now. She's awesome I have a great deep love and admiration for her. She takes time at her job with everyone, not just me. I weighed 145 when I met her, she taught me the difference between muscle and fat. She always gives me ideas on what to do at home, she's very detailed and knows her stuff😄. And her knowledge is unbelievable, she unbelievable period. She puts me on the scale monthly and goes over everything with me. And checks I'm with me during the week to see how I'm doing. She's a jewel.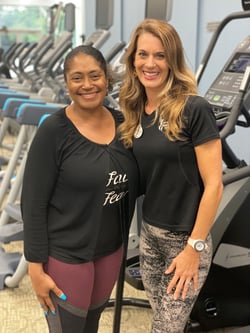 MORE FACTS ABOUT DENISE!
"I left here at age 6. Moved to Los Angeles😎. I graduated class of 1985. I attended Beverly HillsHigh School. Then on to San Jose StateUniversity. My youngest sister is a star for the WNBA. Her name is Lauren Ervin. She has played for Connecticut Sun and in 7 countries. She retired in December of 2020. She was recently hired by the University of Hawaii as assistant Head Coach. I'm from a religious background. My father is a retired homicide detective and was a lead detective for the OJ Simpson trial. My lovely mother is a retired banker."