If you think starting a fitness regimen is hard, try keeping one going. Life happens, routines get disrupted and fortunately, Milestone has been there to help me reset, restart and keep my fitness momentum going.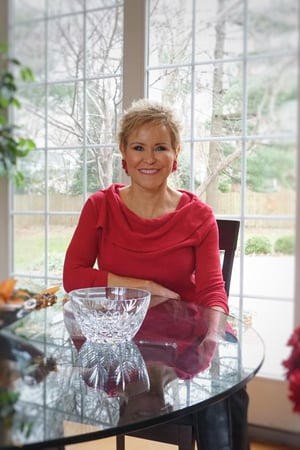 Like everyone else, I have a busy life. I'm a counseling psychologist for executives and professionals, specializing in complex situations, difficult people, major life transitions and other personal and professional dilemmas. I love what I do because it's engaging, challenging and I never know what's coming next. I'm at my most effective and helpful to my clients when I'm focused, calm and energized — both mentally and physically.
In other words, I have to make my own self-care a priority — and be efficient about it — so I can fit it into an entrepreneurial lifestyle and calendar. I need a place like Milestone that can offer lots of options to accommodate a schedule that includes lots of early morning and weekend appointments and occasionally some very strange hours.
I originally joined Milestone for ulterior motives — to help my husband restart his exercise routine. I already had a well-established yoga practice, but I also wanted to dance — and Zumba, Bollywood, hip-hop and ballroom dance classes were all here for me to enjoy. When plantar fasciitis sidelined me from dancing and standing yoga, I was able to do my physical therapy right in the Milestone center with a physical therapist who specializes in foot problems and literally helped me get back on my feet. The bad thing about me is that my first response to trying something different is usually... negative. The good thing is I've gotten better about acknowledging my bad attitude without judging it, so it's easier to go ahead and try new things anyway. So when I learned that strength training would help my osteopenia, I went ahead and booked a personal training session. I was sure I'd hate it, but as usual, I was wrong. I loved the way I could coordinate the resistance movements with my breathing, just like I do in yoga. It's just another form of moving meditation, as far as I'm concerned. And I incorporate plenty of yoga stretching between sets, which is keeping me flexible as I build myself up.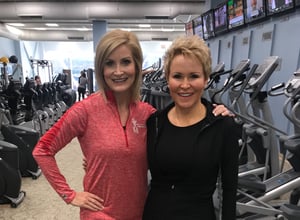 Getting the cardio activity I need is a real challenge if left to my own devices, so I've learned to depend on Milestone's high-intensity interval classes to make it engaging and fun enough to show up and get my heart rate up. Whether an injury, a physical issue or my changing (translation: aging) body forces me to make changes — or my interests simply change — Milestone has made it possible for me to pivot, adapt and make adjustments quickly without losing my momentum. When I broke my ankle a few years ago, I used Pilates mat and reformer classes to stay active and found I liked the new way it strengthened my feet and ankles and how Jump Pilates (done on a reformer in a reclining position) gives me plenty of cardio with less stress on my feet and knees. I've been so impressed with Jump Pilates that I recorded a video about it and posted it on my gynecologist's Facebook page. (See it on the Women First and Milestone Facebook pages.) Everyone in my profession is aware that exercise is the #1 antidote for depression and anxiety (now referred to as the "common cold" of mental health issues), so I see my Milestone workouts as an opportunity to walk my talk and to know from personal experience that exercise doesn't just buff us up. It helps us regulate our emotions and behavior. Even though I'm introverted enough to enjoy a solo entrepreneurial practice, it can be isolating. Milestone is a great place to meet people, take in positive group energy and engage in what I call "close encounters of the brief kind." Research indicates that these brief exchanges are surprisingly "nourishing" and help heal the feeling of chronic disconnectedness that many people feel, even in a marriage, at work, or surrounded by a large social network of friends or family.
I even do what I call my "grocery shopping" at the Center Cafe, where I load up on tasty, guilt-free, portion-controlled items that I eat can here, order to go or use to supplement what I have at home to easily pump up the nutrition. I didn't need Milestone to start my fitness journey, but it certainly helps me keep it going, with every twist and turn and disruption that life brings.
---
To learn more about Dr. Jan Anderson personally and professionally you can visit her website.