Fergie the assistance dog visits Milestone a few days a week, with member Meryl Kasdan. Fergie helps Meryl with many things, including handing her a towel, picking up paperwork and cards off the floor, handing her keys, giving her the medicine dispenser, and much more! Fergie is a beloved member of Milestone and we appreciate her service!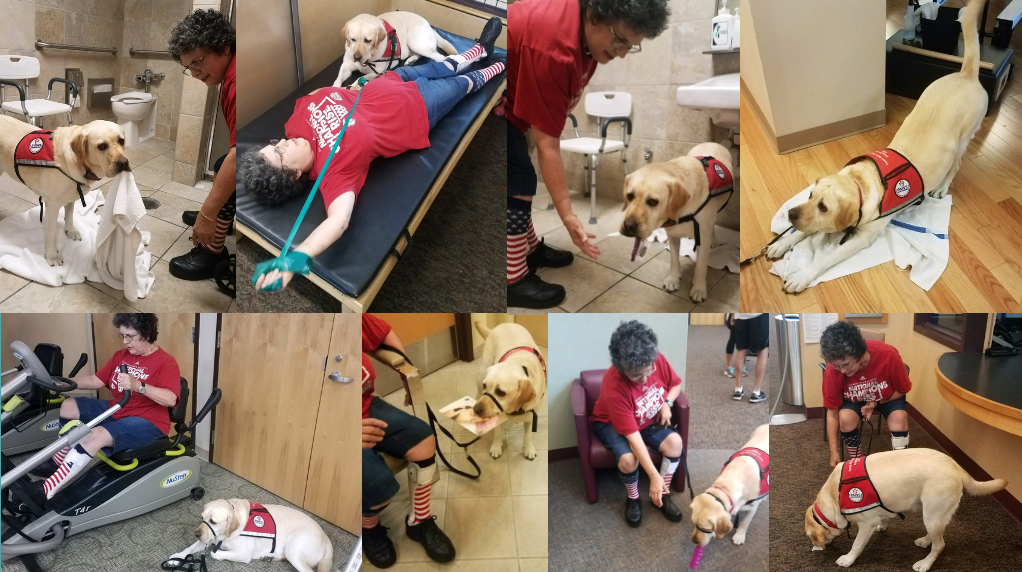 "Fergie" the Assistance Dog (who visits with Meryl) is affiliated with "Paws with Purpose." Paws with Purpose (PWP) was founded in November of 2003 as a non-profit organization dedicated to providing assistance dogs as partners to children and adults with physical disabilities or other special needs. These dogs provide comfort and companionship, help break down social barriers and perform many skilled tasks that help their partners lead more independent lives. PWP also places facility dogs that work with pediatric and adult patients in hospitals or other institutional settings under the guidance of professionals in health care and other fields. Based in Louisville, Kentucky, PWP is proud to provide these highly skilled companions to individuals living in the Louisville and Southern Indiana areas free of charge to the recipient. In 2016 the organization also began placing assistance dogs with veterans with combat PTSD and children on the autism spectrum. In addition, an essential aspect of the service we provide to our clients is the ongoing follow up support that PWP provides to every placement team throughout the entire life of their partnership. This means that if our client experiences a change in their needs, health or mobility status, we will work with them to train new skills for their canine partner, or help them adapt the skills that they already have, to new circumstances or environments. PWP is a fully accredited member of Assistance Dogs International (ADI), a coalition of non-profit assistance dog organizations that sets standards for organizations that train and place assistance dogs, as well as providing education to the public and advocating for persons with physical disabilities. Paws with Purpose is the only accredited assistance dog organization in the state of KY. Our puppies begin their training at 8 weeks of age at the Kentucky Correctional Institution for Women. Selected inmate handlers train the puppies M-F and we have volunteers that are assigned a puppy to socialize each weekend. The training continues until placement at approximately 2 years of age.
---
Mercy comfort dog visits Milestone regularly, with member Larry Lose. They go to the pool together when Larry works out, and Mercy visits with people all along the way. Mercy is a much appreciated "4-pawed" member of Milestone!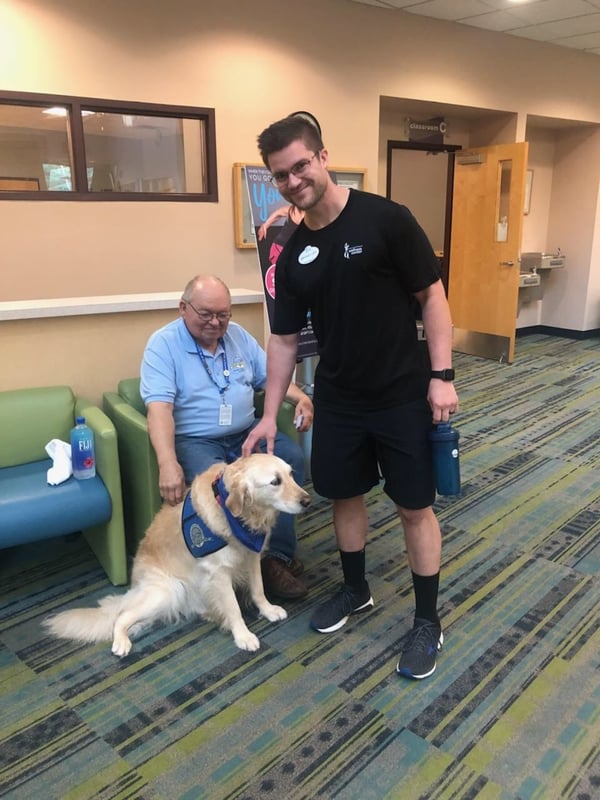 "Mercy" Comfort Dog is affiliated with the LCC K-9 Comfort Dog Ministry. Launched in August 2008, the Lutheran Church Charities K-9 Comfort Dog Ministry is a national human-care ministry embracing the unique, calming nature and skills of purebred Golden Retrievers. The LCC K-9 Comfort Dogs are a bridge for compassionate ministry, opening doors for conversation about faith and creating opportunities to share the mercy, compassion, presence and proclamation of Jesus Christ. LCC K-9 Comfort Dogs are working animals, trained to interact with people of all ages and circumstances who are suffering and in need. The dogs participate in scheduled and special events. Dogs are permanently placed with churches, schools and other ministries involved in Christian human care by LCC. Permanent placement includes full training for handlers and caregivers along with ongoing support, coaching and training. LCC K-9 Comfort Dogs live in the homes of assigned caregivers. The LCC K-9 Comfort Dogs serve every day in the community in which they are placed and are dispatched in times of disaster and crisis to bring comfort to all those affected, including first responders and the volunteers who serve them. LCC K-9 Comfort Dogs were in New York and New Jersey visiting victims of Superstorm Sandy, and in Connecticut after the tragedy at Sandy Hook Elementary School. Lutheran Church Charities currently has over 130 LCC K-9 Comfort Dogs serving in more than 20 states. LCC operates two training facilities in Illinois and Nebraska. LCC never charges those we serve. We are able to do that with the support of donors.