Big congratulations to our member of the month Talbott Allen! Read his inspiring story below.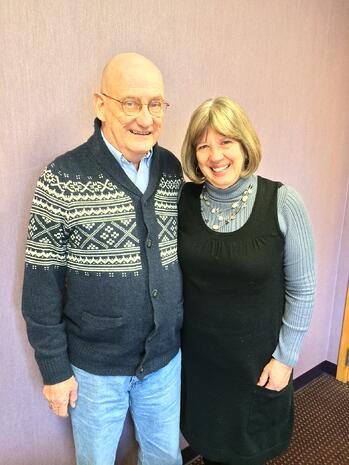 I was not an athlete until I was 30. It all started when a friend of mine invited me to play racquetball at a local gym. When all the racquetball courts were occupied and we were waiting for one to become vacant, we would go up to the track and run. It was about 20 laps to the mile, a small track. I realized I was passing people and that I was fast. That's when I took an interest in running.
My 1st race ever was called "Run, Kentucky, Run." This experience confirmed that I was fast. In 1979 I ran my first full marathon. At the time, I was the coach of a track team and one of the students wanted to do the marathon. We ran it together. At the 18 mile mark, we stopped and ate lunch and I took a nap. An hour later, I woke up and we finished the race.
Since then I have run 22 full marathons. Some of my favorites were Disney, Boston, Louisville, San Diego, and New York. I have also run the mini-marathon here in Louisville every year. My longest race was a 50 miler, which I ran in the year 1980, from the Capital steps to McMahon Plaza. It took me 8 hours, 8 minutes and 10 seconds. I finished in 10th place.
I started exercising at Milestone per the recommendation of my physical therapist after a running injury. My physical therapist stated that by cross training with biking and swimming, I would be in better shape to prevent future injuries from running. So I came to Milestone to start cross training.
Ever since I joined Milestone, I have enjoyed taking Dean's spin classes, which are both challenging and enjoyable. My wife joined Milestone along with some of our friends so we could come together. I also made some new friends here at Milestone, especially through the duathlon training program. Outside of cycling and swimming, I have also worked on my strength training with a variety of personal trainers. I'm currently working with Kenny Hodges, who does a great job of changing my routine to keep it new and challenging. I come to Milestone almost every day during the week.
A few years ago I was diagnosed with Multiple Myeloma, a cancer that forms in white blood cells and accumulates in bone marrow. After undergoing chemotherapy for a period of time, I had a stem cell transplant in April 2012. One thing I'm proud of is to say that since I started running, I haven't missed any of the mini-marathons here in Louisville. So, while I was in Lexington at the hospital receiving my stem cell transplant, my wife's good friend wore my running number and finished the mini-marathon in Louisville, in my place. It was very special.
In June 2013, I ran the San Diego marathon as an Honored Hero (someone who provides inspiration and support for the fundraising programs of The Leukemia & Lymphoma Society). We raised over $6,500 for the cause. The conditions on race day were not optimal, but it just seemed like everything fell into place for me and I ended up finishing the race with a good enough time that I qualified for the elite Boston Marathon!
Within the next several months, I was diagnosed with Glioblastoma brain cancer. In early 2014, I had brain surgery to remove tumors from my brain tissue. 6 weeks after brain surgery, I ran the Boston Marathon. I had been in the hospital 2 weeks before the race dealing with my intestines being all wrapped up, a complication of the cancer. During the marathon, I was sick and injured with a muscle injury in my leg that wasn't diagnosed and addressed until June (the Boston Marathon was in April). But due to the heavy preparation my Physical Therapist had helped me do prior to the race, on actual race day, my sickness and injury didn't bother me. I just enjoyed the day. The timing of this particular Boston Marathon was 1 year after the terror attack bombing, so there was a ton of support and patriotic enthusiasm surrounding the event. It was very thrilling and exciting. I stopped during the race to thank the policemen and servicemen who were working the event. Due to my physical setbacks and all of my conversations, this race was my worst "personal finish time" ever, but it was also my favorite race I've ever done. An added benefit was that one of my sons lives in Boston, so we got to visit with him while we were there.
I continue to come to Milestone almost every day. I still do Dean's spin class, strength training and yoga. I've made many friends here. There is a community here. Men and women that I met at Milestone in Dean's Duathalon Class came to visit me after my brain surgery. Some came to the hospital and others came to our home. They are very genuine and nice.
Exercising at Milestone keeps me stronger so that I have better results in my cancer treatment. Because I don't have multiple issues outside the cancer (like diabetes or other health related illnesses), the doctors can treat the specific cancer issues and that's all we have to do. I don't have any complications unrelated to the cancer.
My advice for others pertaining to exercise is "do something." No matter what, do something. Being physically fit makes you mentally alert, a goal setter, driven and directed in your life. I think I'm more mentally alert.
My wife sees it when I get frustrated at the house, but no one else sees it. I get frustrated when I can't do simple things around the house, or when I can't sleep at night. To deal with these frustrations, she sends me to Milestone. Really, being at Milestone helps me in two ways. First, the exercise helps physically. Secondly, the social aspect helps. When I see friends, it gets me back to a positive mindset.
6 weeks ago, I was driving and had a car accident due to a seizure. Luckily no one was hurt. When setbacks happen, I've found that having a positive attitude helps the most. Whatever happens, I just get over it. It's past tense once it's over. I move on from things and keep on living. I believe things will be better at some point.
When people ask how I keep a positive attitude, I say it's got to come from my great faith in God. I believe everything's going to be okay for me. Things happen for a reason. People say I have a great outlook. When you get a diagnosis of your life expectancy 6-18 months, it makes me think, "Well I can outlive that." It gives me a challenge. It gives me a purpose and motivates me to seek out alternative medicine. You can crawl up in a ball or keep on living. I'm also pretty competitive. You gotta have a challenge, why else are you going to get out of bed in the morning?
I have a family and grandchildren I want to spend more time with. My wife, Constance, and I have been married for like 400 years J (43 years in May!) We have 3 sons and 2 granddaughters. I have a joyful life and I have more to get out of it.
Recently, I've partnered with the Leukemia/Lymphoma Society's Team in Training program to raise money. I posted "Team Talbott" on the Caring Bridge website and have had 7-8 people sign up so far, donating over $2,000. The goal is to have dozens, even hundreds, sign up. We will post on social media websites to spread the word.
I think I may have one more marathon in me. My doctors and my wife shake their heads when I say that, but I think I do. I'm sick I'm not dead. One of my favorite quotes is from the movie Shawshank Redemption, "You either get busy living or you get busy dying." I choose living.