My 70th birthday was fast approaching when a casual invitation for brunch at one of my favorite restaurants came from my daughters. My husband said he would like to join us and since we all often meet a Blue Dog, I didn't think about anything about it. As we enjoyed our meal and cup of tea I was given a beautifully decorated planning notebook and travel book on the Languedoc-Roussillon region. My surprise birthday gift was to be a trip to France at the time of my choosing with my daughters. My husband's interests lie elsewhere; so this was to be a girls' trip with my two grown daughters. What a gift!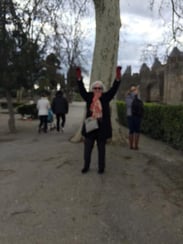 I have always been fascinated by the Roman ruins, Cathars, Templars and the Medieval and Magdalen history of France. A fascination I have passed onto my daughters. We have read extensively about the Southwest area of France and the upheavals and gift that give this area its unique personality.
Once the reality of my gift sunk in, I had some serious doubts about my physical ability to see and do everything that I would want to see. If the girls were going, I certainly didn't want to spoil their time if I couldn't keep up. I had a knee replacement the previous winter and had some complications and rehab difficulties afterwards that were still seriously impeding my mobility. I had also been advised that the other knee was badly in need of replacement. I started coming to Milestone for the water exercises several months before this with the hope it would help in my recuperation and I had started to feel and see some improvement. I decided I can either spend the next 5 months preparing for this trip and do what I can or I can opt out of something I've wanted to do for a long time.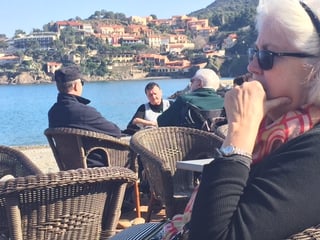 I talked with Linda, who is a hiker, and one of the Water Wellness instructors at Milestone about her thoughts on how I could build my stamina and strength to be able to hike to the mountainous castles and areas that would be part of our trip. She suggested some exercises that she does at home to prepare for her hiking and suggested several of the water exercise classes that she felt would help me reach my goal. I added water yoga with holly, which has been a wonderful addition. I also met with Michele Nichols, a personal trainer at Milestone, who worked up a program compatible with what I was already doing to supplement the aquatic exercises and monitor my progress.
As a result, over the next 5 months I tried to attend aquatic classes 3 to 5 times a week. I tried working out upstairs, but after several weeks, Michele and I agreed that I seemed to be able to do better in the water. Improvement in my physical status was absolutely necessary since our interests were in the medieval castles and sites on maintains. I knew there would be significant uphill walking/hiking and difficult and uneven walking in the ancient ruins, not including the extended walking a trip like this would require. My strength, endurance and balance gradually improved until we left for France in March.
My daughters and I decided to first rent a house in the ancient medieval city of Carcassonne for a week and then spend 6 days in Paris. It was such fun as my daughters and I met a number of times to share our thoughts about what we wanted to see and developed, in my husband's terms, a very aggressive agenda.
In the week we would spend in Carcassonne we rented a car that would give us the freedom to visit all of the out of the way sites we had read about for so long. My husband purchased a Garmin and downloaded maps of France so that we could find our way without too much difficulty. He recognized that I am directionally challenged when you put me in the countryside. It turned out to be one of the most helpful aids we had with us.
On our first day we visited the completely restored medieval Cite in Carcassonne. It was a good test of my physical progress since our hike to the top of this site is about a mile plus uphill. The Cite is amazing! I got to the top and had a "Rocky" moment; captured it on my iPhone and proceeded with the tour. The tour took you through the castle, church, museum and living quarters of those who lived there in the 15th century. After the tour, I threw caution to the wind and successfully navigated one area of the ramparts. I wasn't sure I could handle the climbing and narrow stone steps that take you up and down the walls of the ancient city; but I did. My daughters climbed another rampart, but I opted out. It was a good decision, since the tour guide advised that only those who were stro
ng athletes and not claustrophobic should attempt that challenge.
There were so many wonderful things we saw and did that I'm unable to share because of space, but we visited the Peyrepertuse, the highest 9th century fortified castle in Southwest France, Abbaye de St. Hilaire, Rennes Le Chatewau and Collioure, a thoroughly Catalan city on the Mediterranean immortalized by Matisse paintings. We were able to attend on ancient cathar carnival, in Limoux with its wonderful church dedicated to Mary Magdalene, that dates back to the 15th century. We also had the chance to enjoy the parades and music, as well as sharing some of the local Blanquette de Limoux, a sparkling wine known as the poor man's champagne. Limouxins don't like the description, but would point out that their Blanquette is the world's first sparkling wine, first recorded in 1531; long before anyone heard of champagne.
Our Paris visit included day trips by train to Chartres and its ancient Gothic Cathedral and labyrinth, Versailles and its 652,300 square feet of extraordinary treasures. We visited as many museums as we could and then the traditional tourist monuments in Paris. One of my favorite visits was to the beautiful St. Chapelle Chapel and its extraordinary stained glass windows. I was not warned in advance by my friend of the flights of very narrow circular stone tower steps that are the only way into and out of the chapel, but I did it. We actually were able to visit all of the sites on our "aggressive" agenda with the exception of two places. We just ran out of time.
I am so grateful for the help and advice that I received from the staff to prepare for this trip. I couldn't have hiked, climbed, stood for hours in long security lines, walked the 5 to 6 miles daily according to my daughter's Fitbit and navigated the difficult terrain were it not for their encouragement and help to physically prepare for what was a challenging adventure. I also couldn't have done it without my daughters; who carried my suitcase up and down the stairs at the train stations and on the trains and stopped for Café Crème and pastries when I needed a rest. Spending two weeks alone with my grown daughters in France! I wouldn't have missed it for the world!
Our 50th Anniversary is coming up next year. I wonder how my husband is going to top this gift?
Beth MacCracken (Milestone Member)