Mental health is more important than ever. Research shows that there is approximately a 20% to 30% lower risk of depression for adults participating in daily physical activity. Denise Ervin, a Milestone Member since June 10, 2020, came to us with a dream to share how the community here at Milestone helped her overcome her mental health struggles!
From Denise:
I love Milestone and all the members. I'm honored to write this story.
On February 21st my mother died, it was a truly tragic story. She lost her battle with cancer after 16 long years of fighting it. Due to that tragedy, my mental health was tested. It was a rough time in my life. Thankfully, I'm in therapy now. I want everyone to know it's ok if you're not feeling well mentally. I did what was best for me by taking a leave of absence from Milestone. I missed everyone terribly. I went through so many changes, at one point even thinking I'd leave Kentucky. But then my mother died. Even in my leave of absence Milestone was there for me. So many people reached out to show me support, chat with me, and even invite me over for dinner - this community truly helped me to regain control over my mental health.

I have so much love for my personal trainer, Alison Cardoza. It's an honor to call her my trainer. She continued to check in on me by asking how I was doing, mentally and physically. She even reminded me that my Milestone community missed me! I love you all with all my heart.
I'd like to thank the entire staff for being so wonderful to me and showing me so much love and support. Thank you to all the superb trainers we have here at Milestone. I hold a special place in my heart for our pool people.
I want to specifically thank: Miss Patricia, another aquatic friend, who sent me a wonderful message on wonderful Mother's Day. My pool pal, Milestone member, Sally Mercke, continued to share positive words of support. Miss Shirley, who continues to be a mother to the motherless. Janice for inviting me to join her for a wonderful Easter dinner. Lastly, Ardi and Carol, my track sistas.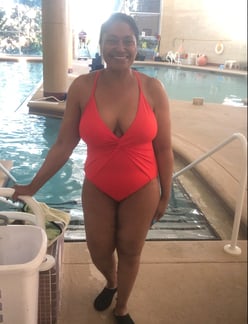 I'll leave you with this: always put your physical and mental health above everything else! I thank God for helping me through my Milestone community.
I LOVE MILESTONE!