Leave the boring behind - spice up your exercise wardrobe with fun pops of color that are sure to give you the energy you need to crush your fitness goals!
No more black pants!! As a person who has always enjoyed fashion, working out, and like many others…had body insecurities. I always found it so interesting that the fashion industry tried to make us all feel as if we were not our best… unless we had on all black. We didn't look our thinnest… unless we had on all black. We did not look our tallest, sleekest, most sophisticated, or even professional…unless we had on all black. On New Year's 2014 I decided to step out of the "black pants" world and live life in color. I made it my New Year's Resolution that year to not buy another pair of black workout pants. I decided to step outside of my "black pants" brainwashing and program myself to love my body in every color of the rainbow.
Living life in color in the fitness clothing world is very difficult. Many of the high profile fitness attire clothing stores sell most of their clothing in "fan favorite" colors: black, white, grey, and eggplant. Not that any of those colors are bad; however, I look to wear bright colors and prints. One of my favorite places to shop locally is Plato's Closet on the corner of Hurstbourne Lane and Taylorsville Road. (which will be moving to a new, undisclosed location on July 4, 2021). They always have great brands in my size at astronomically low prices.
When hitting Plato's Closet, I make sure I have plenty of time to spend. The store is always nice, neat, organized by size, and color-coded. I like to take my time and make the best and most cost-effective choice.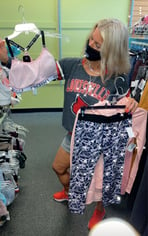 I usually start with matching a new outfit with a pair of shoes in mind. Today's visit was a bit different, I picked a pair of pants first and then developed the outfit around it. I always look for the most colorful or coolest print on the rack. I found a great pair of black and grey funky printed pants with a touch of blush splashed throughout ( $6). I hope to find a complete outfit I worked my way to the tank tops. The selection was great today; there were several black and grey tanks that I really liked and would go with multiple outfits, but today I needed a blush tank to go with these funky pants. I chose this cute blush tank with mesh on the top and bottom ($6).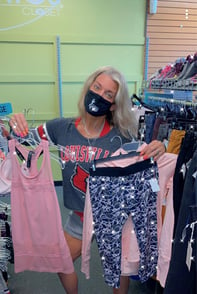 Surprisingly, the mesh creates a sleek waistline for me. After finding the perfect blush tank, a supportive bra is what I'm looking for. I found this awesome blush, black, and white Bebe bra top. Soft, supportive, padded, and the right color and only ($9). Topping off every fitness outfit is a great jacket. I really got lucky this trip to Plato's closet. I found this beautiful, blush-colored turtleneck jacket. It fits like a glove. It has thumb holes; something I love, it tops off yet another awesome, Plato's closet outfit, it's Reebok and cost only ($11). The entire outfit, with tax, cost $33.
I have found since I've been living life in color and wearing colorful clothes it has made me more accepting of the skin that I am in and know that I am my best in pink, my most confident in purple, my most accomplished in green and most sassy in red!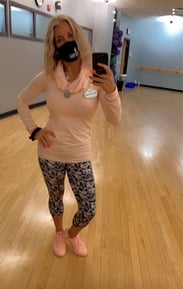 There is absolutely nothing wrong with the cute little black dress, those sexy pair of black leather pants, or even your favorite pair of black yoga leggings; I look cute in those things too, LOL. Just remember to love your body, your mind your soul, and do not rob your essence of all the colors the universe has to offer. You never know what colorful legging or bold printed yoga pants might do from your perspective, give it a try… I dare you!