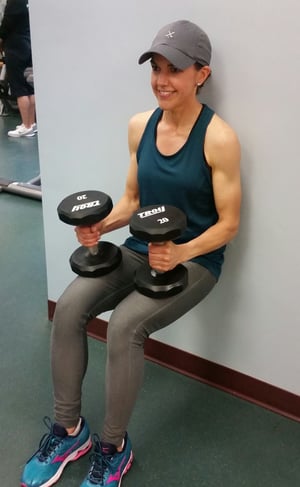 From observing Brenna, I felt she was a trainer who would challenge me. When I began working with her, I was looking for some new ideas to add into my workout routine. I did not anticipate what a huge positive effect she would make not only to my fitness regimen, but also to my overall health. She has provided lots of new, interesting exercises that I have incorporated into my workouts. In addition, she educated me on how to construct workouts that are impactful and time-efficient. I have always been dedicated to working out. With Brenna's help, I am now more organized and productive.
All my life I have been active. I have worked with trainers since I was 18 years old. However, Brenna is the first person to educate me on how my diet affects my fitness goals and overall wellness. She helped me organize the spacing of my meals and snacks with the use of a food chart, which we review regularly. In addition, Brenna identified some items to limit in my diet and helped me understand how certain foods work together for our benefit. She continues to make new food suggestions, which adds variety to my food choices. We also focused on increasing my water intake. Because of her help with my diet, I have more energy to get the best out of each day of life!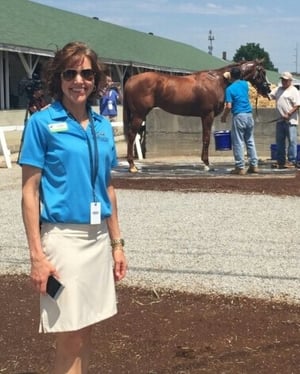 I grew up in Central Kentucky. I attended the University of Kentucky where I played on the women's golf team. I am very thankful for the opportunity I had to travel and compete with some of the best players in the country (and play some pretty awesome golf courses!). I spend my days at the Kentucky Derby Museum. I am one of the Visitor Services Managers and the Lead Tour Guide. I have the privilege of teaching people from all over the United States and the world about the Kentucky Derby and the Thoroughbred Racing Industry. Sometimes, you also see me on Churchill Down's Facebook page doing live virtual tours from around the track.
I can talk ALL DAY about horse racing without getting tired! So, I pretty much love my job!
---
3 Month Progress: February 2 - May 9
Total pounds lost: 15.8
Total body fat lost: 8.3%
---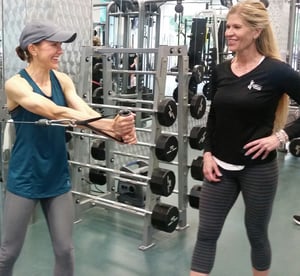 BRENNA TOMLINSON, BS, CPT, AFAA-CPT
More than 30 years in the fitness industry including training, supervision, management and 25 years as a practicing Personal Trainer.
2004 Team USA World Championship Duathlon Competitor
National Figure Competitor
2010 Boston Marathon