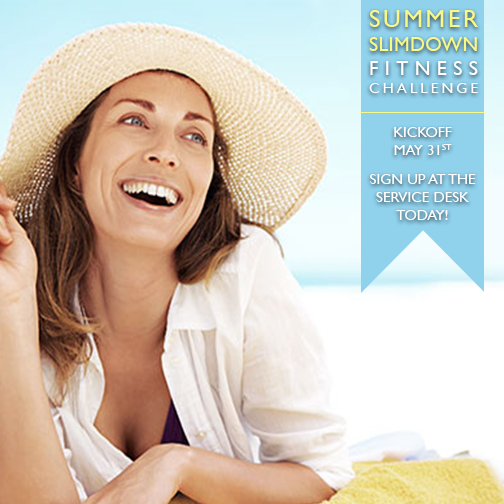 Summer is right around the corner and our Summer Slim Down Fitness Challenge is the best way to keep yourself motivated and looking your best during the summer months. Joining our fitness challenge is the accountability you need to achieve your fitness and wellness goals. Without accountability, it's hard to be consistent. Consistency is key in changing your habits and your body. We provide you with a fitness challenge as a tool to keep you motivated, committed and consistent, paving the way for you to reach your goals while being rewarded for your hard work and dedication.

5-Week Program Includes:


Summer Slim Down 2014 Kick-Off Seminar | Saturday May 31st, 10 AM

Guest speaker Holly Ansman, RD, LD, BS in Dietetics from ASU S.M.A.R.T. Nutrition for Success

Initial body composition testing week of June 2nd-6th
Final body composition testing week of June 30th-July 4th
5 weekly prize drawings for all participants (Must log

some

exercise to qualify)
3 Grand Prizes

Raffle drawing for activity points
Achieve your weekly nutrition goal
Female with the most body fat and weight loss
Male with the most body fat and weight loss

Summer Slim Down T-Shirt (with completion of 2 1/2 hours of weekly exercise and meeting goal each week)
Program Rules**
Must sign up at the Service Desk
Participants must have initial body composition taken week of June 2nd-6th
Final body composition must be taken week of June 30th--July 4th
Track your time in the binders located in the lobby
**Complete program rules on the reverse side of the Summer Slim Down fliers in the lobby

Program Fee

Members $20 | Non-members $109
Sign up at the service desk today. For more program information or any questions at all, call Melanie 896-3900 x142!