Flourless Fudgy Chocolate Chunk Brownies by Dashing Dish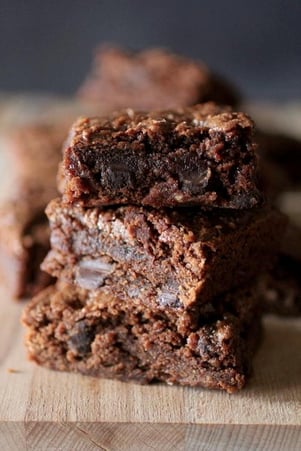 Nutritional Info (yields 12 brownies)
Calories per Brownie 160 | 12g Fat | 3g SF | 9 Carbs | 2g Fiber | 4g Sugar | 7g Protein
Ingredients
1 cup Almond flour
1/2 cup Baking stevia or 1 cup sweetener that measures like sugar
1/4 cup Unsweetened cocoa powder
1/2 tsp Baking powder
1/4 tsp Salt
3 large Eggs
1/2 cup Peanut butter, melted (or nut butter of choice)
1 tsp Vanilla extract
1/4 cup Dark chocolate chips
Preheat oven to 350 degrees. Spray an 8x8-inch baking pan with nonstick cooking spray. Set aside.
Add everything (except chocolate chips) to a medium bowl and stir until batter is smooth. Stir in chocolate chips (you could also sprinkle a few extra on top if desired). Pour batter into prepared pan.
Bake for 25-28 minutes, or until toothpick comes out clean. Let cool completely to room temperature and cut into 12 even squares. Enjoy!