Grain Free Red Velvet Santa Hat Brownies by
Dashing Dish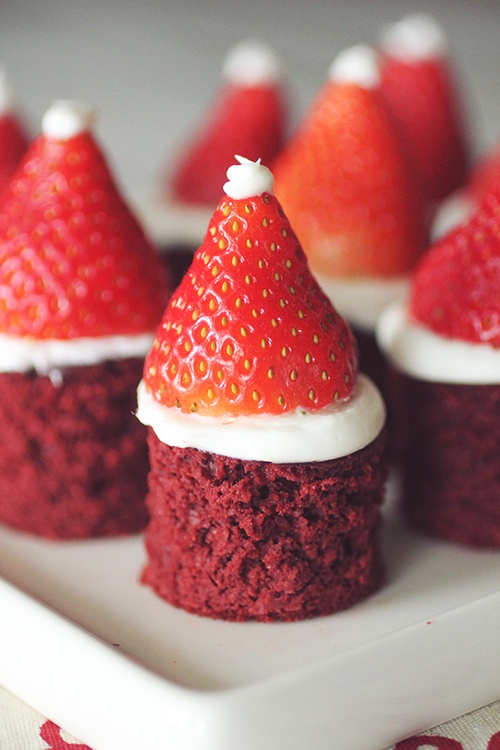 Ingredients
1 can Chickpeas (garbanzo beans), drained and rinsed
1/4 cup Protein powder (or oat/almond flour)
1/4 cup Unsweetened applesauce
1/4 cup Plain Greek yogurt (or pumpkin, mashed banana)
2 large Egg whites
1/2 cup Baking stevia or 1 cup sweetener that measures like sugar
3 tbs Unsweetened cocoa powder
1/2 tsp Baking soda
1 tsp Baking powder
1/2 tsp Salt
1 tbs Red food coloring (you could also try beet juice to get the red color)

Optional Santa Hat Ingredients:
16 medium Strawberries, washed and stems trimmed
4 oz Reduced fat cream cheese, softened
1/2 cup Baking stevia or 1 cup sweetener
1/4 tsp Vanilla extract

Nutritional Info
Servings (1 brownie per serving): 16
Calories 30 | Fat 1g | Carb 4g | Fiber 1g | Sugar 1g |Protein 3g

Directions
1: To Make the Brownies: Preheat oven to 350 degrees. Spray a 8×8 non-stick baking pan with cooking spray. Place everything in a blender or food processor. Blend/process until beans are smooth. Using a spatula, scoop the batter into prepared pan, and spread evenly with spatula. Bake for 20-25 minutes. Remove from oven and let cool before cutting.

2: To Make the Cream Cheese Frosting: In a medium bowl, beat together the cream cheese with the sweetener and vanilla, mixing with an electric mixer until smooth and creamy. Place frosting in a ziplock bag, and trim off the corner for easy piping.

To Make the Santa Hats: Use a small round cookie cutter (or a small mouth jar/glass may work), and cut out 16 round brownies. Top each brownie with a small amount of cream cheese mixture, and a strawberry as the 'hat'. Chill until ready to serve. Enjoy!