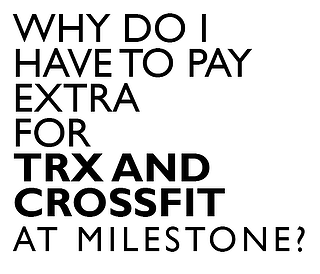 This is a question we've been asked a lot lately as we've added both TRX and CrossFit (CrossFit St. Matthews) to Milestone in the last few months. We want to help you understand why we have made this choice. We are confident that this explanation will give you a better sense of "why?" and hopefully encourage you to give them both a try.

Included in your membership are 200+ land classes and 78 aquatic classes per week and full-use of our award-winning facility. We feel our membership rates are very competitive for what we offer our members.

We have had many requests for programs such as TRX and CrossFit from our members who are attending these classes at other facilities. Therefore, they are paying for their membership at Milestone plus additional fees for a CrossFit (barre, TRX, etc.) class outside of Milestone. We feel that our fees associated with these additional programs are very competitive to what our members are already choosing to pay elsewhere. Our goal is always to delight our members, and with these recent additions, we are able to offer our members all the popular fitness programs that interest them and make them available and convenient to them all in one place.

At the same time, we have continued to offer new classes, programs and equipment at no additional cost to members. Over the years we have added yoga, Pilates, Zumba and most recently as many as 25 new, energetic and innovative classes with Jeff Howard.

Furthermore, TRX and CrossFit are forms of small group training. Small group training involves one trainer instructing a group for 4-10 clients. Offering small group training allows a personal trainer to work with more people at once and make fitness instruction more affordable. For example, a 60-minute TRX class at Milestone is just $12 for a member, and $18 for a non-member, making these specialty classes an affordable option for those looking for a workout with a little more guidance. We feel that this is a great and cost-effective way for you to workout in a more intimate setting, get to know new people and still have instruction and individual modifications from a certified personal trainer.

We believe we offer above and beyond what other facilities do at a competitive rate. There are more than adequate classes and equipment included in the membership fee that allow our members to achieve their fitness goals without paying extra for other programs and classes.

Our mission is to provide our members with high-quality facilities, programs, staff, and customer service. By adding these new programs, we are making it convenient for our members to continue enjoying new fitness trends and making them available to them all under one roof at Milestone.

We view these additions positively and want our members to view them that way, too. Please don't hesitate to ask us any further questions. Remember, YOU matter most at Milestone!