With Halloween less than two weeks away, we wanted to share a handful of spooky snack ideas! These tasty treats will keep you from indulging in high calorie candy while still satisfying any sweet tooth. From savory Mummy Dogs to Monster Apple Mouths, these are healthy snack alternatives that are wickedly good and fun to make with kids!
dailydelights.sheknows.com
Monster Apple Mouths
Ingredients:
Granny Smith Apples
Favorite jar of peanut or nut butter
Peanuts (or mini marshmallows) for teeth
Directions:
Quarter your apple into 10-12 equal pieces.
Slather peanut butter on each apple slice.
Position whole peanuts or marshmallows between two apple slices as "teeth" for a monstrously fun treat!
Healthier Mummy Dogs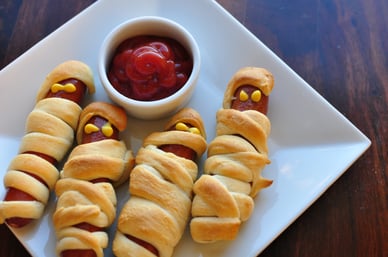 www.theskinnyfork.com/blog/healthier-mummy-dogs
Ingredients:
1 (8 oz.) Container Reduced Fat Crescent Roll Dough
8 Turkey Hot Dogs
Directions:
Preheat the oven to 375 degrees and line a baking sheet with foil and give it a light coat of non-stick cooking spray. Set aside.
Open and unroll the crescent roll dough. (Try cutting in half down the vertical line and cinch the perforated cut marks together on each half.)
Roll it out slightly with a rolling pin.
Using a pizza cutter or sharpened knife, carefully cut the dough into long skinny strips. (We got about 32 strips out of dough.)
Begin wrapping each hot dog up with the strips, starting at one end and working towards the other. The messier the better! Just be sure to leave some space at one end or the other for the eyes! (We used about four strips, or one crescent roll, per weenie.)
Place each of the mummy dogs onto the prepared baking sheet and put in the oven to make for 8-9 minutes.(Turn about halfway through cooking to bake more evenly all the way around.)
Once the dough is cooked and starting to brown, remove from the oven and allow to cool slightly.
Add mustard dots for eyes!
Frozen "Boo"-nana Pops

Ingredients:
1 medium banana
1 cup white chocolate
8 mini chocolate chips
4 popsicle sticks

Directions:
Cut banana in half lengthwise, then in half to make four quarters.Insert popsicle sticks into bananas, and freeze bananas on a wax paper lined cookie sheet.
When the bananas are frozen, fill a coffee mug with chocolate.
Melt chocolate in the microwave 30 seconds at a time, stirring until the chocolate is melted and soft.
Dip the bananas one at a time into the chocolate, scraping off the excess chocolate from the back of the banana, and place it on a cookie sheet lined with wax paper.
Quickly add the chocolate chips for the eyes before the chocolate hardens (you have to work quickly here).
Return to the freezer until frozen and ready to eat. Eat frozen.
Banana Pretzel Spiders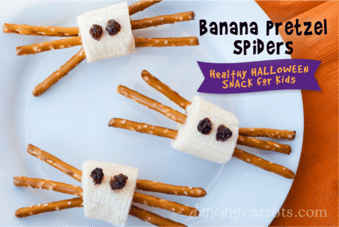 www.dancingcarrots.com/snack-recipes/healthy-halloween-snack-3-banana-pretzel-spiders


Ingredients (6 Spiders):
1 large banana (cut into six 1-inch bites)
18 pretzel sticks (break in half so you have 32 half sticks total)
6 raisins
Directions:
Take a banana bite and insert 3 pretzel sticks in each side.
Cut a raisin in half.
Gently push the two raisins on the top of the banana for eyes. Have fun eating them!
Frankenguac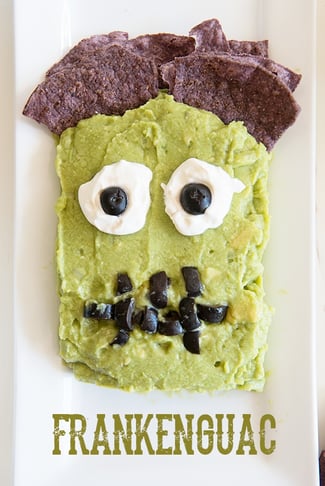 dineanddish.net/2014/10/halloween-party-idea-frankenguac
Ingredients:
1 batch of your favorite guacamole using fresh California Avocados (Try this recipe but don't include the tomatoes)
1 handful of blue tortilla chips (baked would be healthiest!)
2 tablespoons of Greek yogurt
¼ cup sliced olives
To assemble Frankenguac:
Spoon guacamole onto a rectangle platter, using a flat edged scraper to shape into a rectangle.
Place chips near the top of his head, with triangle tip pointing down.
Add two dollops of Greek yogurt for the whites of the eyes and top each with a sliced olive end piece (without the hole)
For the mouth, push sliced olives with rounded edges facing up into the guacamole, shaping it like Frankenstein's mouth.