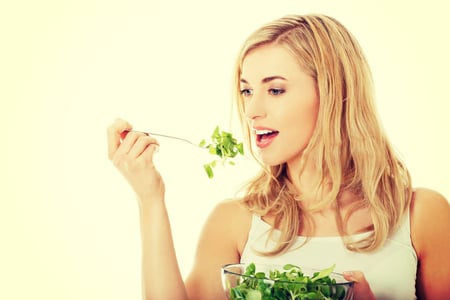 Lunch can be a trap that's waiting to sabotage your weight-loss efforts. Finding a healthy lunch on the go is difficult, and skipping lunch just sets you up for big cravings and hunger pangs later in the day. The best way to stay on track with your healthy lifestyle is to make sure you've got plenty of options for nutritious, delicious, and convenient lunches ready to go.
The best lunches are going to be tasty, quick-to-prepare, and low calorie. Here's a round-up of five tasty, healthy lunch ideas under 500 calories to help keep you on track for your weight loss goals.
1. Lemon Chicken Asparagus Stir-fry
"Stir-fry" is another word for "lots of veggies," and this recipe for Lemon Chicken Asparagus Stir-fry does not disappoint. Lean chicken breast is paired with plenty of nutrient dense veggies such as asparagus, bell peppers, and cabbage to help you feel full and satisfied.
Vegetables are high in fiber, which can help keep you feeling fuller for longer, and reduce your urge to snack between meals.
This delicious dish is ready in less than 25 minutes, and has 260 calories per serving.
2. Chicken Bruschetta Burger
The flavors of Italy, served up on a whole wheat bun. This recipe for a Chicken Bruschetta Burger elevates the flavor of a standard chicken burger with plenty of Italian seasonings, some melty mozzarella cheese, and plenty of basil and cherry tomatoes.
This Italian-inspired burger may taste like a splurge, but it can be made in 25 minutes, and has 370 calories per serving.
3. Shaved Zucchini Salad with Macadamia Nuts
This healthy dish is the answer to so many of your lunchtime concerns. Like what to do with an overabundance of zucchini from your garden, or what to eat on Meatless Monday. A Shaved Zucchini Salad with Macadamia Nuts is a vegetarian dish that is crunchy, cheesy, salty, and citrusy all at once. Macadamia nuts and pumpkin seeds provide plant-based protein and healthy monounsaturated fat to this salad, but what you will love most is the amazing flavors and how beautiful it looks on a plate.
A gourmet meal waiting to be your next lunch at only 180 calories per serving.
4. Tri-color Pasta Salad with Tuna
Pasta lightens up to be a fantastic lunchtime fare in this recipe for Tri-color Pasta Salad with Tuna. Brown rice pasta replaces regular wheat pasta, and sundried tomatoes, baby greens, and tomatoes add a punch of color and bold flavor. Use tuna packed in water, not oil, to provide plenty of protein without adding too many calories to this healthy pasta salad.
In 15 minutes, you can prepare this 290 calorie dish. With 20g of protein and 27g of carbs, it is a great choice for the perfect pre-workout meal to fuel your lunchtime workout.
5. Chili Chicken Tortilla
Skip the taco truck, and stay on track with your diet by preparing a quick, light, and tasty Chili Chicken Tortilla for lunch. Strips of chicken are seasoned with smoky chili powder, and combined with a creamy, bright avocado sour cream made with lime and cilantro. Bell peppers and onions provide a satisfying crunch, and plenty of vitamin C. (A single bell pepper provides more vitamin C than an orange!)
This amazing southwestern inspired lunch is ready in only 11 minutes, and is 368 calories per serving. That leaves you plenty of time to squeeze in a bit of exercise on your lunch break, too.
Center Cafe at Milestone
Need a filling meal on the go? Several menu items at Center Cafe are under 500 calories. The vegetable soup is only 135 calories and if you add a corn muffin (homemade daily!) you have a light lunch coming in at less than 350 calories! Other menu items and frequent specials that are also under 500 calories include: Black Bean Burger, Veggie Burger, Grilled Chicken Breast Sandwich, Greek Salad, Mexican Cobb Salad, Gyro Sandwich, Turkey Panini, Margherita Pizza!
Your healthy lunch can include burgers, stir-fries, tacos, pasta, or even be a hardy vegetarian option. With so many options available to you under 500 calories and ready to be eaten in less than 30 minutes, there is no reason to fall into the lunchtime trap. Healthy meals and snacks are crucial to your healthy lifestyle and any weight loss plan; fueling your body with the right foods will always provide you with the right results.