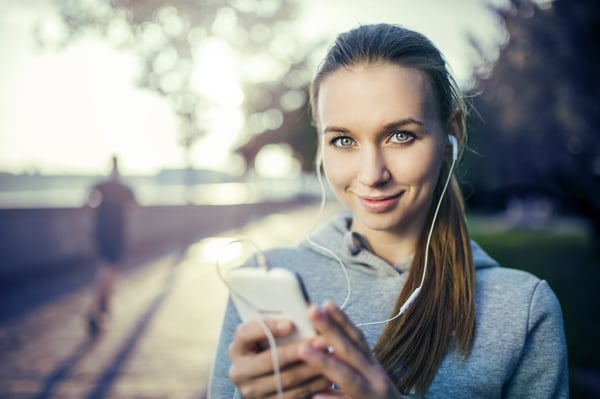 You've seen him or her around the gym: scrolling through their smartphone in between reps or fitness classes. You may be thinking to yourself: what are they doing? Maybe they're taking #fitspo (fitness inspiration) photos, searching for their favorite gym playlist or scrolling through a fitness app for some exercise encouragement.
Regardless, it's time to jump on board the fitness app bandwagon and take advantage of your smartphone in a healthy way.
With an estimated 100,000 apps dedicated to mobile health, according to mHealth App Publishing, there are a plethora of apps available for your use and enjoyment to help with fitness and health routine. Whether it's to offer motivation, inspiration, ways to mix up your fitness routine or help track your goals, there is an app (or two or three) for you.
Here are a few of our favorites – and guess what, they're all free!
Gym Hero – No more getting lost in the long lists of workouts and exercises. Log your routines and keep track of your progress with this workout log, exercise journal and tracker.
Lifting Log – Track your progress on a per exercise-basis with this easy-to-use app meant to track your reps and weight progress for each exercise and graph your increases for each.
Gym Workout Log – Have access to a workout planner, built-in exercises, historical log and record notifications, goal tracking, customized fitness support and more with this app.
Virtuagym Fitness – Workout alongside the animated personal trainer who will show you exactly how to do each exercise within a constantly growing exercise database which you can do at home or in the gym.
Spring – Crank up the beats to help you workout faster, stronger and longer with DJ-curated playlists and songs that have a similar range of beats per minute. All you have to do is run to the beat of the music.
My Fitness Pal – Log meals using the extensive database of brand name foods or, if you made something from scratch, you can input the recipe, and the app will estimate it's nutritional information.
Map My Fitness – Track fitness and exercise activities and log food with an easy-to-use interface and some of the most accurate tracking capabilities out there with this tried-and-true app.