In-The Box (Crust-less) Pumpkin Pie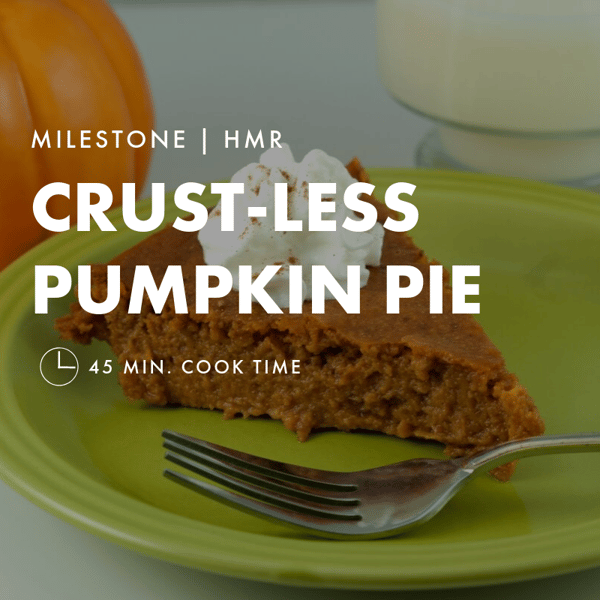 IT'S HEREEEEEE. Ladies and gentlemen, we are FINALLY in the 'BER months, AKA the best months of the year. That being said, the best time of year brings on a lot of unwanted calories between Halloween candy, Thanksgiving, Thanksgiving left-overs and the month long, "calories don't count this time of year," celebration in December.

Unfortunately these calories do count and they often plague us with unwanted physical results in the form of weight gain and lackluster workouts. I'm getting a sugar high just thinking about it...
But THIS pumpkin pie recipe might just take the, uh, pie. We all want to survive the holidays with little to no weight gain and keep crushing those personal records in the gym, and I guarantee you'll do just that when you add this recipe to your rotation of go-to holiday desserts.
Why is this the BEST pumpkin pie?
Simple ingredients
Can be made in just ONE bowl which means
Less dishes - yay
Low calorie
HMR approved
You can't lose with this crust-less pumpkin pie, but don't take it from us - try it yourself and post your results in the comment section below!
---
Ingredients
1 29 oz canned Pumpkin Puree (not pie mix)
2 tsp splenda or stevia
4 packets hmr 70+ vanilla shake mix
1 box of sugar free butterscotch pudding
1-2 tsp pumpkin pie spice
1 cup water
Directions
Pre-heat oven to 350 degrees.
Spray 10" glass pie pan with no-stick cooking spray.
Combine ingredients, mix well, pour into pie pan.
Bake 45 to 50 mins. and cool.
Refrigerate over-night.
Enjoy!
Makes 8 slices. 1 slice= ½ veg, ½ shake