Try this new take on chicken salad. Perfect for the warm summer weather approaching. This sweet but salty take on chicken salad is an instant crowd-pleaser. Scoop some onto a bed of spinach for an easy lunch or spread it on a soft croissant for an on-the-go meal. Regardless of how you eat it, we know you'll love it! Shout-out to our Center Café Director, Chef Teresa, for this fantastic recipe!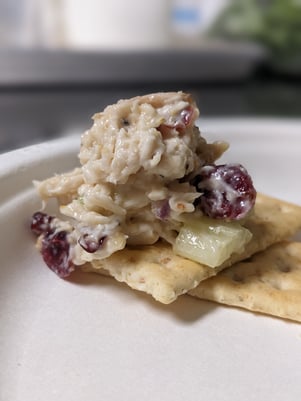 Chef Teresa's Fancy Chicken Salad
1.5lbs diced cooked chicken
1 cup diced celery
3/4 cup dried cranberries
3/4 cup slivered almonds
1/4 cup diced red onion
1 cup low-fat mayo
3/4 cup mango chutney
Grind 1/2 cup slivered almonds with 2 tbsp olive oil
salt & pepper to taste!