HEALTHY GAME DAY SNACKS SURE TO BE FAN FAVORITES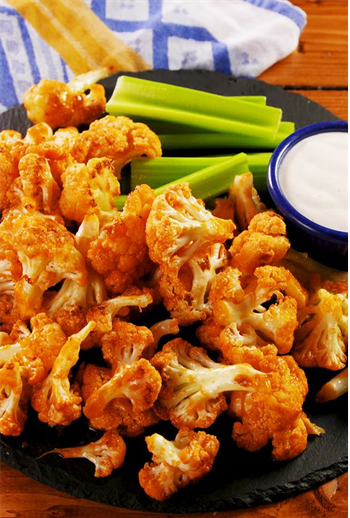 Buffalo Cauliflower
1 head cauliflower, cut into florets
1 tbsp. cornstarch
2 tbsp. extra-virgin olive oil
Kosher salt
Freshly ground black pepper
1/4 c. hot sauce, such as Cholula
2 tbsp. melted butter
1 tsp. garlic powder
Blue cheese or ranch dressing, for serving
Celery sticks, for serving
Preheat oven to 450°. Toss cauliflower with cornstarch and oil and season with salt and pepper. Spread into an even layer and roast until golden, about 20 minutes.
Meanwhile, in a small bowl, combine hot sauce, butter, and garlic powder together.
Pour hot sauce mixture over cauliflower and toss to coat.
Serve warm with blue cheese and ranch dressing for dipping and celery sticks.
Low Carb Sliders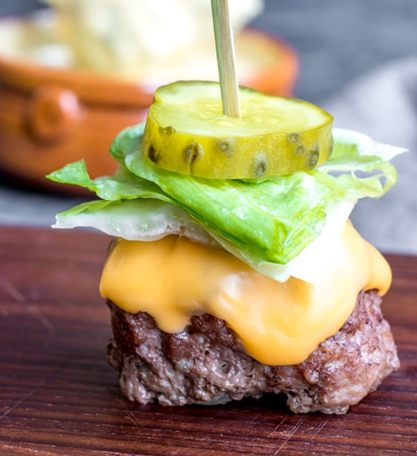 1.5 pounds ground beef or turkey
¼ cup onion finely diced
1 teaspoon salt
4 slices American cheese
16 slices dill pickle
Lettuce
Preheat oven to 400 degrees F.
In a large bowl combine ground beef, onions, and salt. Mix until thoroughly combined.
Roll the beef into 1.5 ounce balls. Press each one down slightly to flatten it to make a mini burger patty and place it on a lined baking sheet.
Bake at 400 degrees F for 15 minutes or until cooked through.
Cut each cheese slice into four squares and place a square on each mini patty. Place a few squares of lettuce and a pickle slice on top of each meatball and run a skewer through it.