Chris and Tracy Green met at a running store where Tracy was working at the time. Their common passion for running brought them together from the beginning. Chris has competed in the Louisville Ironman four consecutive years including a sub-12 hour finish. Tracy is a nine-time Boston qualifying marathoner, including a 3:10 personal best.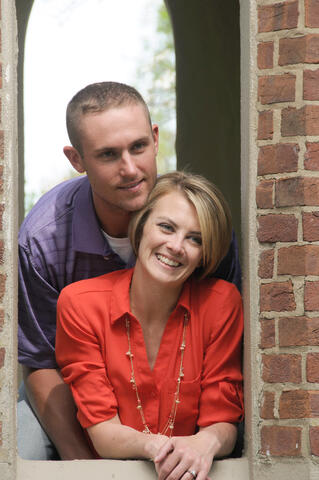 Sometimes people recognize Tracy from TV, as she is the spokesperson for Oldham County Schools and handles all the communications and development efforts for the state's 8th largest district. Tracy is also currently a member of the New Balance Louisville racing team- a sponsorship through the New Balance Louisville store. She is also the team manager, handling recruitment, gear and team events. She writes a monthly column for the Running Journal, a monthly magazine targeting the southeastern United States. In this journal, she wrote a column about Milestone. This can be found at: http://tracefh.wordpress.com, Chris's professional background is in Sales for an equipment company. He manages a territory that spans across Kentucky so he travels a good amount during the week.
Chris first joined Milestone as a member back in 2009. He enjoyed Milestone for several years, but unfortunately changes in his job schedule made it increasingly harder to attend. In the earlier stage of their relationship, Chris and Tracy tried exercising together at a small "treadmills and free weights" type gym in town but it really didn't offer what they needed to stay in top shape. Both Chris and Tracy were in a bit of a rut.
Chris and Tracy joined Milestone in early 2014, soon after becoming engaged. Chris held Milestone in high regard from his membership a few years ago, and Tracy had enjoyed the club as a visitor a few times, so they both agreed it was the perfect place to get "wedding ready". The engagement – and wedding! – were great motivators to get back in shape. In particular, Chris was looking to start back with spinning classes and swimming; Tracy wanted Pilates, yoga and other core/strength classes. Milestone was obviously the perfect fit.
Tracy said the "options" are what sets Milestone apart. She enjoys the Fitness Challenges (like the "Around the World" challenge) and the miscellaneous events offered like the Self Defense workshop. In addition, the healthy café fits great with a busy lifestyle. Tracy is able to grab food after an early morning workout before heading to work. "If home is our home base, then Milestone is our Forward Operating Base," Tracy says.. She attends Milestone approximately 6 days a week. Chris attends as much as he can, depending on work travel.
Tracy has lost 17 pounds since March, a significant change when her starting weight was 120 pounds. Through strength training, she is able to run faster and have fewer injuries (setting a PR in the 10K and half marathon in 2014). Tracy enjoys Milestone's Pilates classes, as well as Sue's early morning "Stretch & Abs" class. She is also entertained by the group that mingles in the locker room. "It's quite a social group in the women's locker room in the early mornings. There could be a reality TV show filmed in there. It's very entertaining."
Chris and Tracy were married August 23rd in Anchorage, KY. Tracy thanks Milestone Group Fitness Instructors Sue (stretch & abs) and Cari (Pilates) for excellent classes that helped tone her body and define her muscles, so she could look her best for the wedding photos on their big day!
Soon after the wedding, they became serious about training for the Indianapolis "Monumental Marathon" on November 1st. Tracy would be running the elite half-marathon, attempting to set a second PR in that distance. Chris would be running the full marathon.
Both Chris and Tracy are happy to credit Milestone for their success so far this year, and they look forward to accomplishing new goals in 2015. Tracy's goal is to do a ½ Iron next year. She would also like to do a Sub-3:15 marathon. Her PR is 3:10, and last year she did 3:19. She is also considering participating in a fitness competition. Chris's goal is to re-qualify for the Boston Marathon.
November 1st Update: Monumental Marathon, Indianapolis, IN
Tracy writes:
Race details… Well, the weather forecast was horrible. Low 30's with winds around 15mph. Definitely not ideal racing conditions! We made some last-second clothing decisions – put on everything! – and tempered our expectations. The race course at Monumental meant we'd be going generally uphill and into the wind and slightly downhill and with a tailwind back. We both knew a conservative first half of our races would be a smart move. We were able to start next to each other but we separated after the first half mile or so – since I was doing the half, my pace was faster.
In all, the weather was definitely tough. Chris said most of the last five miles were really bad. That said, we had great races. I set a new personal record in the half, running 1:28:12 for 32nd female overall. That's a 6:43 pace; I usually split 6:30 or under for the last four miles including a 6:15 last mile, a really nicely negative-split race.
After my race, I jogged back to the hotel to check tracking updates on how Chris was doing. I had his times for the 10K and halfway points when I got to the hotel and could see he was running well. I grabbed warm clothes and hopped in the car, using two maps to navigate around the road closures in an unfamiliar city to make it out onto the course. I saw Chris at mile 21, ran a block or so with him, asking how he was doing. He seemed fatigued but said he was doing okay. He was still right on the time the tracker had projected at the 10K mark, so he was running a really consistent pace. I hopped back in the car and drove back to the hotel, then jogged back to the finish line.
I really didn't have a lot of time to get to the finish, so I had to hustle, which was hard considering I had just run my own race! But it was such an exciting feeling to see him round the final corner spot-on that early 10K projected time. He crossed the line in 3:12:20, well under his goal of 3:15 (and WAY under his "B goal" of 3:20).
We are both happy with our races. We both finished under our goal times despite the weather, so that's a successful weekend!