Posture check! Have you done a posture check recently? Check out some of the common posture issues we face based on our generation.
---
| | | | |
| --- | --- | --- | --- |
| AGE | ISSUE | EXAMPLE | WAYS TO IMPOVE |
YOUNG

Forward head from looking at cell phone or tablet.

Side to side neck stretches

​

Back rows with a band

​

Chest opening stretches

​

Chin tucks

​

Looking up and down

​

Back arching stretches
PROFESSIONAL AGE

Rounded shoulders and tight hip flexors from sitting at a desk and in the car.

Stand up

​

Back rows

​

Chest opening stretches

​

Side bends

​

Torso twist

​

Leg swings front and back

​

Plank

​

Seated cobra (keep core tight &

arch upper back)
ELDERLY

​ Forward head, rounded shoulders, & lordosis of low spine due to weakness & fall risk.

Side to side neck stretches

​

Wall slides with arms

​

Shoulder rolls

​

Chest opening stretches

​

Back rows

​

Abdominal strengthening exercises

​

Side bends

​

Torso twists (gentle)

​

Balance exercises

​

Walking with head up s

houlders back
MILESTONE CLASSES

TO HELP IMPROVE

POSTURE
---
​
Stretch & Abs:
Strengthening the body's
core (abdominals and back) and
stretching to promote balance.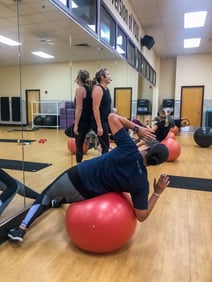 ​
Mash-Up Level 1:

Get a combined workout of 30-minutes of cardio, 15-minutes of weight training and 15-minutes of stretching. Chairs available.
​Walk Tall:
Postural education using stretches, strengthening, body mechanics and visual imagery. Special consideration will be given for those with osteoporosis.​
Barre:

Incorporating small, controlled movements with light weights or bodyweight resistance to sculpt, strengthen, and elongate the muscles. Synergizing elements of Pilates, sculpting, and ballet will give you a full-body workout.​
Yoga:

This class focuses on building full body strength and flexibility using universal alignment and movement principles, breathing and vinyasa.​
Pilates:

Participants of all levels will benefit from core and stability training with enhanced breathing techniques.

CLICK HERE TO CHECK OUT ALL OF THE CLASSES WE CURRENTLY OFFER!