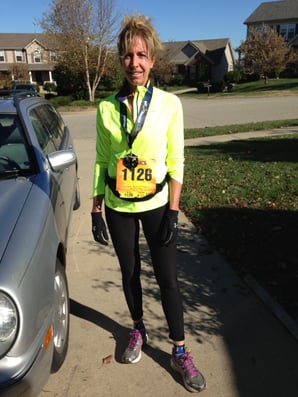 Lynn was born and raised here in Louisville, KY. She attended the University of Kentucky and graduated with a bachelor's degree in Business. She became a member of Milestone in March of 2004 when Annie Locke came over from Power Moves.

Lynn was hired in January of 2010 to work with the HMR Weight Management Program. She enjoys helping people lose weight and to cultivate a healthier lifestyle.

"I love working at Milestone. It is such a positive environment. I get to work out and see all my friends on a daily basis. Also, my parents (Bob and Anna Showalter) are members here at Milestone and I get to see them all the time.

I am single with 2 children. My daughter Olivia is 19 years old and is finishing her freshman year at Kentucky. My son Thomas is 16 and is a sophomore at St. X. My son has a passion for running as well. He runs Cross Country/ Track and is one of the top runners for St. X."

Lynn's hobby outside of Milestone is her passion for running. She has been running since college days. Her first Marathon was Chicago, then New York City and then the Marine Corps Marathon. She says the most exciting adventure was participating in the "The Mother of All Relays" … Hood to Coast. It is a 198-mile-long relay race starting on Mt. Hood and finishing at Seaside in Portland, Oregon. Lynn's 12-man team was called the Derby dozens.

Lynn has run many years in the Triple Crown of Running, the Papa John and the KY Derby Festival Mini Marathon. She may have one more Fall Marathon in her for this year! Go Lynn!