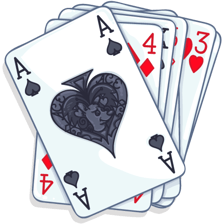 It's summer and that means one thing, vacation time! We have come up with a few tips for enjoying your vacation without blowing your diet or exercise routine. Moderation is important. Try a white-wine spritzer by the pool instead of a 700 calorie margarita. Splitting entrees is another great way to enjoy eating out without going overboard. Saving calories where you can allows you to splurge on that favorite ice cream shop you only get to visit once a year!
Exercise is key. Whether it is a walk on the beach or a bike ride, you'll help ward off those dreaded extra pounds. Going to a gym while on vacation may not be an option or sound appealing. Try this fun exercise game below. All you need is a deck of cards!
Assign each suit a different exercise. The card value equals the number of reps. Our examples are below.
Heart: Squat Jumps
Spade: Push Ups
Diamond: Burpees
Clover: Sit ups
Shuffle the deck of cards and start flipping them one at a time. Flip a 7 of hearts? Do 7 squat jumps! Give all face cards a value of 10. Complete the deck and you have completed 95 reps of each exercise!
Feeling extra motivated? Assign Jacks: 12 reps, Queens: 15 reps, Kings: 20 reps and Ace: 25 reps.