Flourless Double Chocolate Zucchini Brownies by Dashing Dish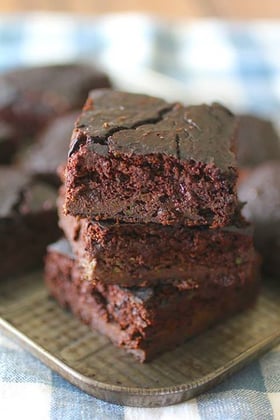 Need a way to sneak in the veggies? This is the PERFECT way to make your kids or yourself get in those veggies without even knowing!
Ingredients
1 cup Oat flour (Or 1 1/4 cup old fashioned oats blended into a flour in blender or food processor)
1/2 cup Unsweetened cocoa powder
1 1/2 tsp Baking soda
1/4 tsp Salt
1/2 cup Baking stevia (or 1 cup sweetener that measures like sugar)
2 large Eggs
1/4 cup Unsweetened applesauce
2 cups Firmly packed grated zucchini
1/8 cup Dark chocolate (or semi sweet) chocolate chips
Preheat oven to 350 degrees. Spray an 8×8 inch baking pan with cooking spray.
In a medium size bowl, stir everything together and pour into prepared baking dish. Bake for 35-40 minutes, or until a toothpick comes out clean. Let cool completely and cut into 9 brownies. Enjoy!
Nutrition
90 Cals | 9g Carbs| 3g Fat | 5g Protein