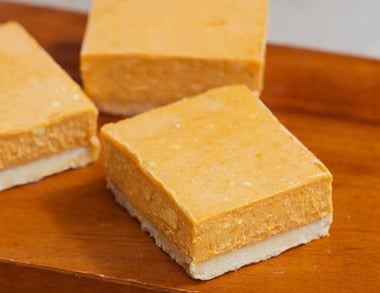 Ingredients
12 oz cream cheese - such as Daiya or a low fat cream cheese/Greek yogurt blend works too!
1 cup pumpkin puree
1/4 cup sugar, (we used stevia)
A pinch of uncut stevia OR 1 additional tbsp sugar
1/4 tsp cinnamon
1/4 tsp pumpkin pie spice or additional cinnamon
1 1/4 tsp pure vanilla extract
2 tsp cornstarch

Instructions
Line an 8×8 pan with parchment paper and your crust of choice unless you'd prefer crustless bars. (The 5 ingredient gluten free crust we used ischocolatecoveredkatie.com/2015/08/17/gluten-free-pie-crust-recipe) Set aside.

Preheat oven to 350 F. If you have an extra baking pan of any size to spare, fill it halfway with water and place on the lower rack of your oven. (This step can be skipped; it just helps prevent cracking.)

Blend together all ingredients until just blended—don't overblend, which would introduce air into the bars and cause cracking later on.

Pour the batter into the first prepared 8×8 pan, smooth out evenly, and place on the middle rack of your oven. Bake 25 minutes, then leave the oven door closed but turn off the oven and let the bars sit in the turned-off oven for another 5 minutes.

Take out the still-underbaked bars and let them sit at room temperature for an hour. (Don't skip this, as putting them straight from the oven to the fridge would cause—you guessed it!—cracking.) Then refrigerate at least 4 hours, during which time they will firm up quite a bit. Slice into bars, and store leftovers in the fridge or even in the freezer if you want to thaw them another day.