Tabata is a from of High Intensity Interval Training (H.I.I.T) training that last for 4 minutes. The structure of the program is that you work hard, at maximum intensity, for 20 seconds, rest for 10 seconds, and repeat for 8 rounds for a total of 4 minutes. You can choose to do any exercise that you wish for those 4 minutes.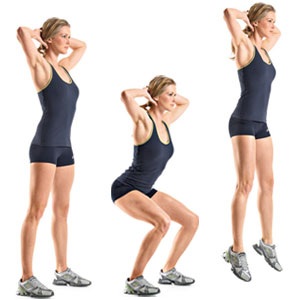 Tabata training was developed after Japanese scientist, Izumi Tabata, compared the results of moderate intensity exercise wit high intensity exercise. Tabata found that the athletes in his test group who performed high intensity training saw increases in anaerobic and aerobic system capacities. The athletes that performed at moderate intensity did not improve anaerobic performance.
Tabata training originally began with one movement: for example, doing push-ups for 20 seconds, then resting, and repeating for the full 4 minutes. It is common for instructors to now vary Tabata training to offer a total-body workout or to increase or decrease intensity of rounds. Here is an example of a 20 minute Tabata training workout:
Jump Squats
Push Ups
Sit Ups
Rows
Start with jump squats. Do as many jump squats as you can for 20 seconds, take a 10 second break, then repeat jump squats for 20 seconds. Once you have completed 8 sets of jump squats, take a 1 minute break and move on to push-ups. Repeat the sequence of 20 minutes hard and 10 seconds rest. Do 8 sets of each before moving on to the next movement and finish up with rows.
Tabata training is a great way to get a quick workout in and torch calories if you're short on time or have trouble fitting in a workout during the day. Tabata training allows you to vary your workouts and keeps you from getting bored with the same thing every day.
Come try Tabata with Jeff and Jennifer at Milestone:
Tuesday: Tabata (Intermediate) 4:30-5:30 PM | Jeff
Wednesday: Tabata Basic (little to no jumping) 11:30 AM-12:20 PM | Jeff
Friday: Tabata (Intermediate) 5:30-6:30 PM | Jennifer
Sunday: Tabata (Intermediate) 11 AM - 12 PM | Jeff
Sunday: Tabata (Intermediate) 11 AM - 12 PM | Jeff