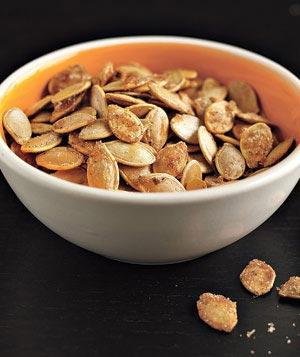 Trick or treat … give me something good to eat! With the holidays just around the corner and Halloween season in full swing jam-packed with pumpkin-treat-this and pumpkin-dessert-that, it's challenging to not completely blow your healthy diet with such yummy temptations all around.
With a little preparation, modification and creative thinking, it is possible to stick to Halloween-style clean eating and healthy living while still enjoying the season with five helpful tips:
TIP #1:
Don't buy candy ahead of time.
Avoiding temptation is half the battle, so why torture yourself with candy laying around the house for weeks on end? Purchase just enough candy estimated for trick-or-treaters the day before Halloween to save yourself the unwanted temptation, and unnecessary sugar.
TIP #2:
Continue to eat healthily and exercise regularly.
Just because it's the season for goblins and witches, that doesn't mean you need to overindulge in sweets, treats and otherwise unhealthy living. Stick to your regular clean eating and exercise habits – eating nutrient-dense, whole foods and taking a group fitness class, for example – to keep life in balance through Halloween festivities.
TIP #3:
Go ahead and give in to treats – in moderation.
You don't have to give up your favorite Halloween-season treats and meals. Choose your absolute favorites and eat (and enjoy!) them in moderation, not going overboard. If you lack self-control, try whipping up a batch of your favorite treats, saving only a small portion for yourself and family and offering the rest to family and friends.
TIP #4:
Offer non-candy Halloween treats.
It may be Halloween, but that doesn't mean you have to stick with high-sugar sweets! Mix it up and try something new, offering non-candy treats (think: glow sticks, homemade crayons, and temporary tattoos) for kids and families to enjoy.
TIP #5: Choose healthy Halloween-style recipes.
It's actually quite simple to choose healthy versions of popular seasonal treats and meals – you may just need to do a little extra research to find these healthy Halloween recipes. Another trick is to understand what ingredient substitutions can be made to modify an existing recipe to become healthier, closer to the clean eating lifestyle you're adhering to. But it's worth it the effort, we promise.
To offer a little inspiration to get the Halloween clean eating plan moving, here are some of our favorite treat, snack and meal ideas right from our #HealthyHalloween Pinterest board.
Sweet and Salty Pumpkin Seeds
Ingredients:
2 cups fresh pumpkin seeds (from 2 medium pumpkins), rinsed and patted dry

2 Tbsp. unsalted butter, melted

2 Tbsp. granulated sugar

½ tsp. kosher salt

¼ tsp. ground cinnamon
Preparation:
Heat oven to 300° F. Spread the seeds on a rimmed baking sheet and bake until dry throughout, 50 to 60 minutes.

Increase oven temperature to 350° F. In a large bowl, toss the seeds with the butter, sugar, salt, and cinnamon. Return the seeds to the baking sheet and toast, tossing occasionally, until golden brown, 10 to 15 minutes.
Mini Mummy Pizzas
Ingredients:
4 whole wheat English muffins, split and toasted

2/3 cup red pepper marinara sauce

1 cup finely chopped kale or chard

1 yellow or green bell pepper, cored and finely chopped

1 package light string cheese

16 slices black olives
Preparation:
Preheat the oven to 400°F. Arrange muffins on a parchment-paper-lined baking sheet and spoon marinara onto each half.

Top with kale and peppers, and then shred cheese into strings, arranging it over the muffins like a mummy's bandages.

Arrange 2 olive slices on each half for eyes and bake until cheese is melted, about 15 minutes.